IELTS | Study Aboard | Cambridge English | TOEFL | PTE | OET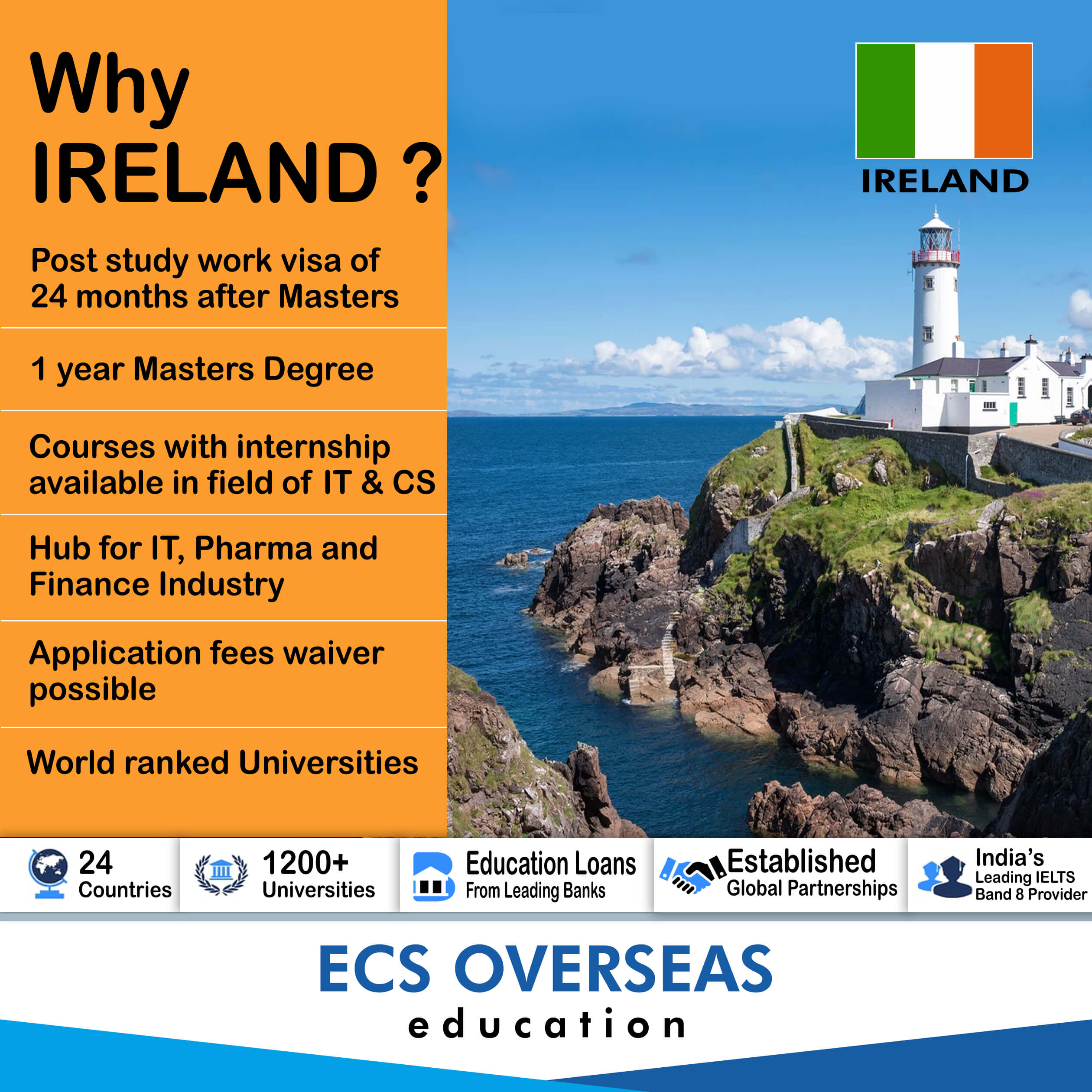 ---
ECS IELTS Coaching Centre in Velachery Chennai is an internationally acclaimed English language school located in Chennai.
We offer a variety of English language courses to suit all proficiency levels.
Our Language courses aim to be the best of all English schools in the city.
Whether your need is General English, Business English or Academic English we guarantee to meet your learning objectives.
To provide direction to students on language skill through innovative pedagogical method.
Each aspect of language will be taken into account: Writing, Speaking, Reading & Listening.IELTS Coaching Centre in Velachery Chennai
Our ultimate goal is irrespective of familiarity of any situation students should speak English eloquently and precisely.
---
IELTS Coaching Centre in Velachery Chennai
IELTS at its best is practiced only at IELTS Coaching Centre in Velachery Chennai. We ensure better understanding of the participants and help them achieve their required Band Scores effortlessly. ECS IELTS follows a unique system of coaching and goes all out to bring you a greater understanding of the test format and help you get your best IELTS score.
Over 20,000 students trained every year
Authorised Partner of the British Council & IDP IELTS
CertTESOL qualified trainers with 10+ years of experience in teaching IELTS
7 out of 10 students score above band 8 in IELTS
Best Quality Study Materials
Online Updated test practice for all modules
Live sessions with individual feedback
Flexible & Convenient World class training
Taking an IELTS test
Applying for work or immigration services in English-speaking countries
Looking to improve their IELTS score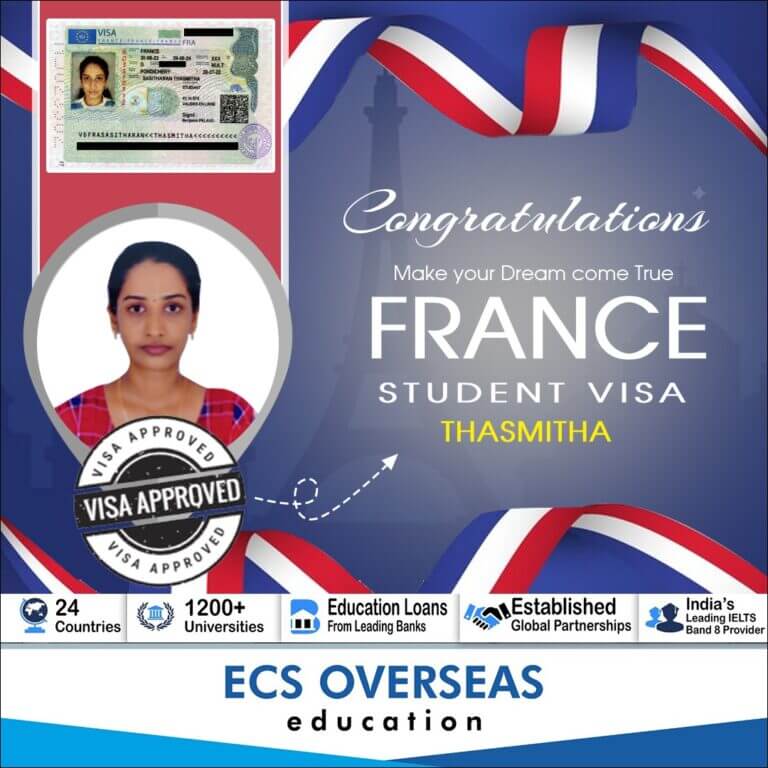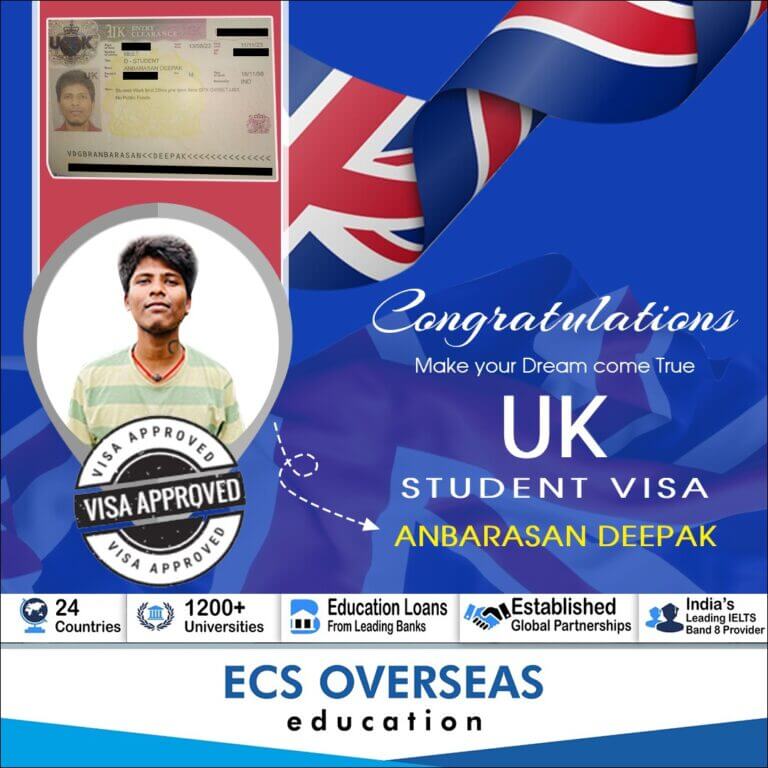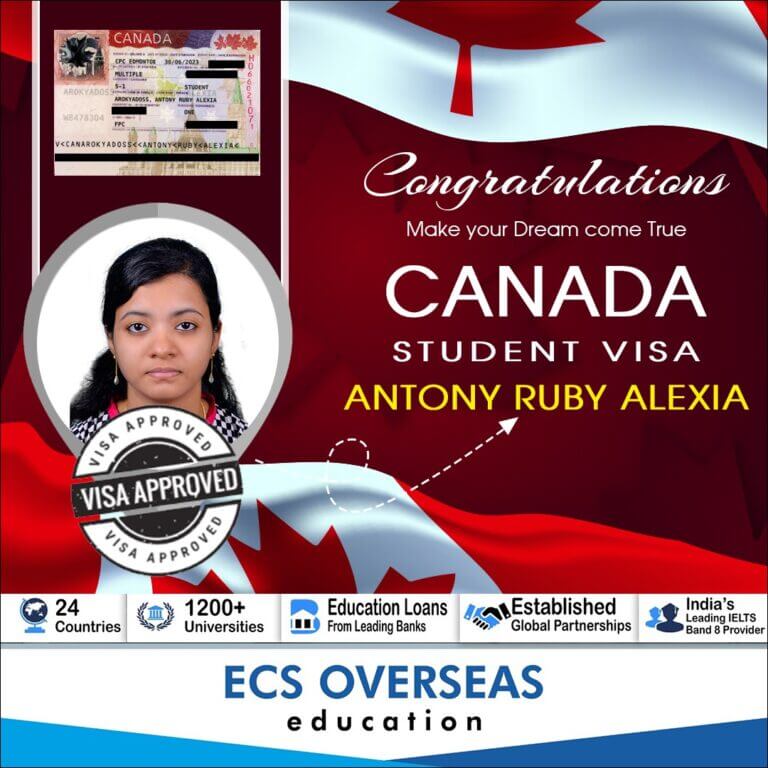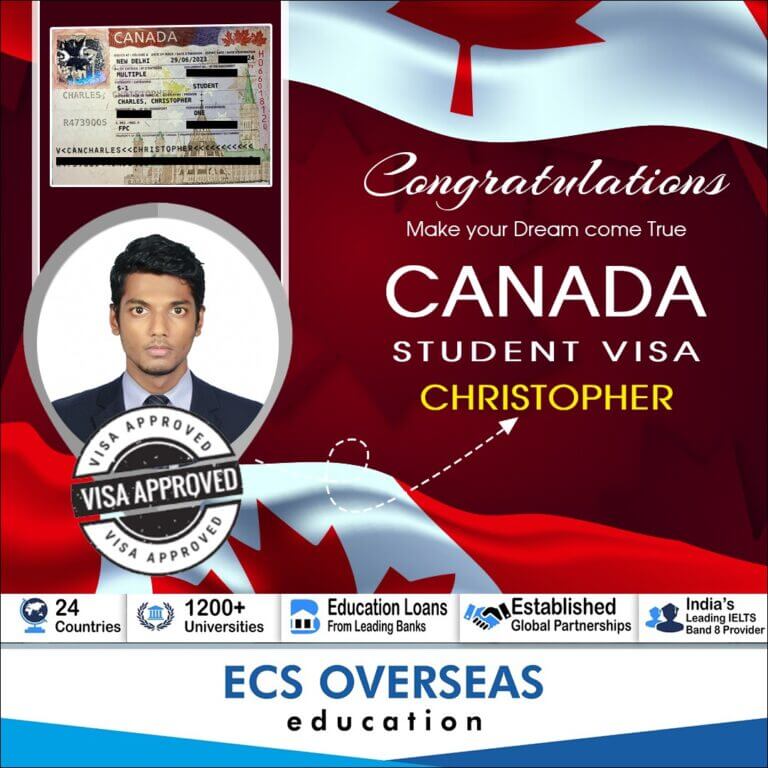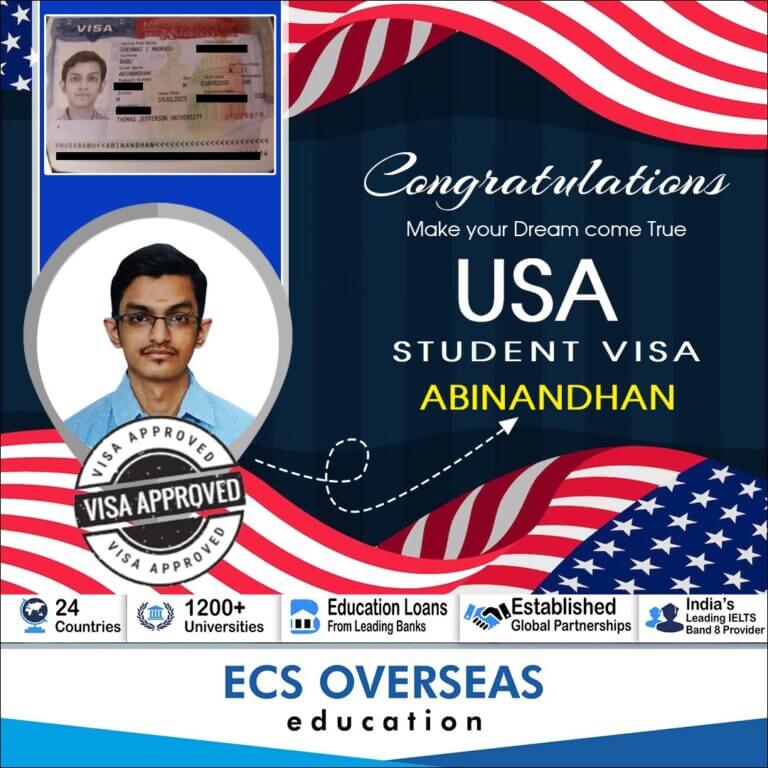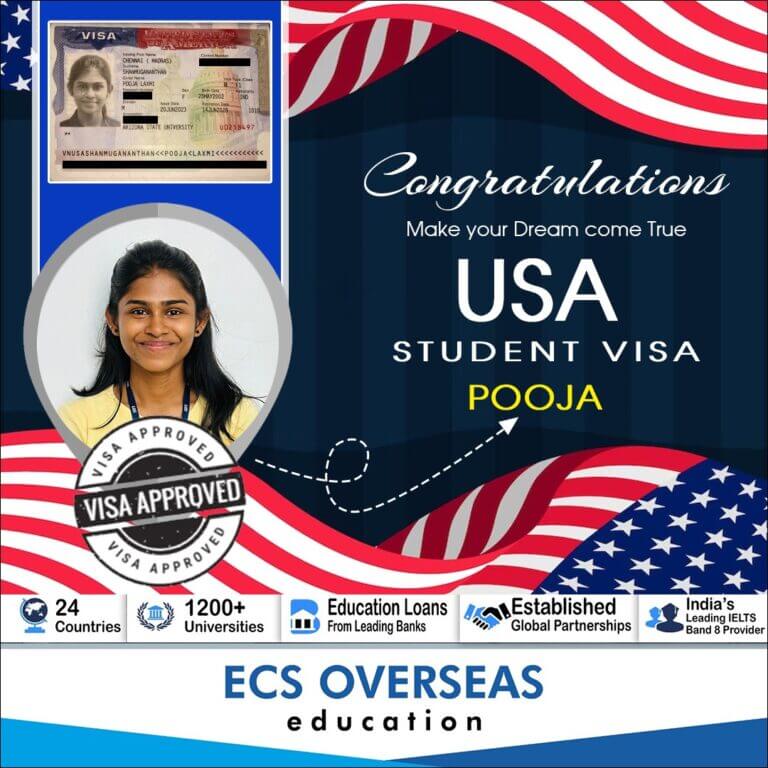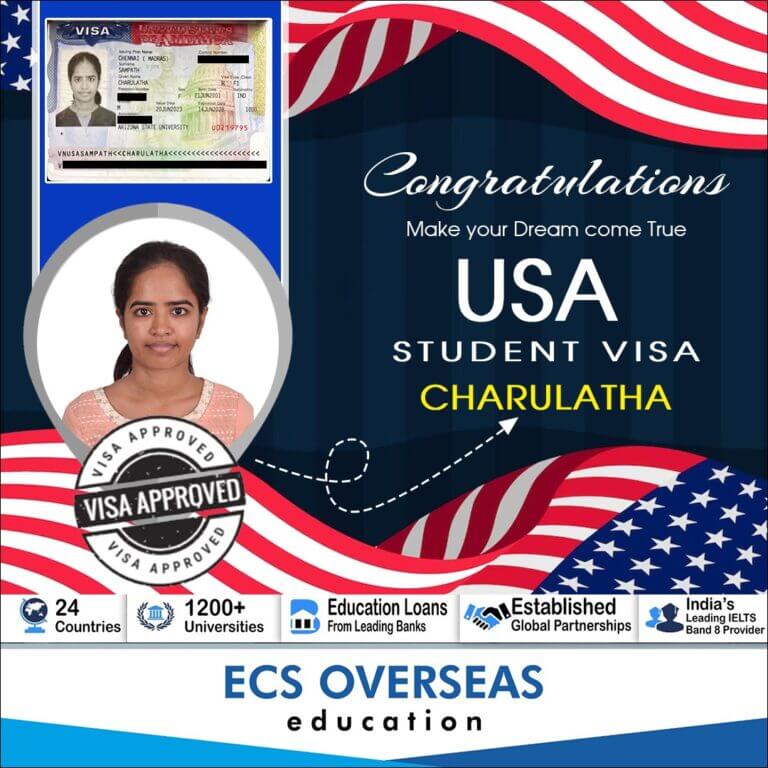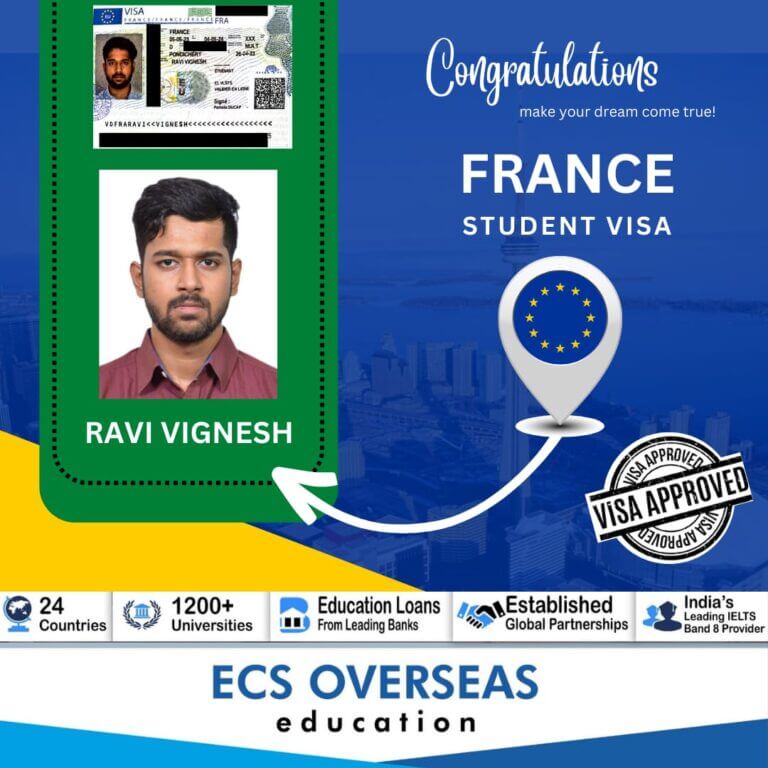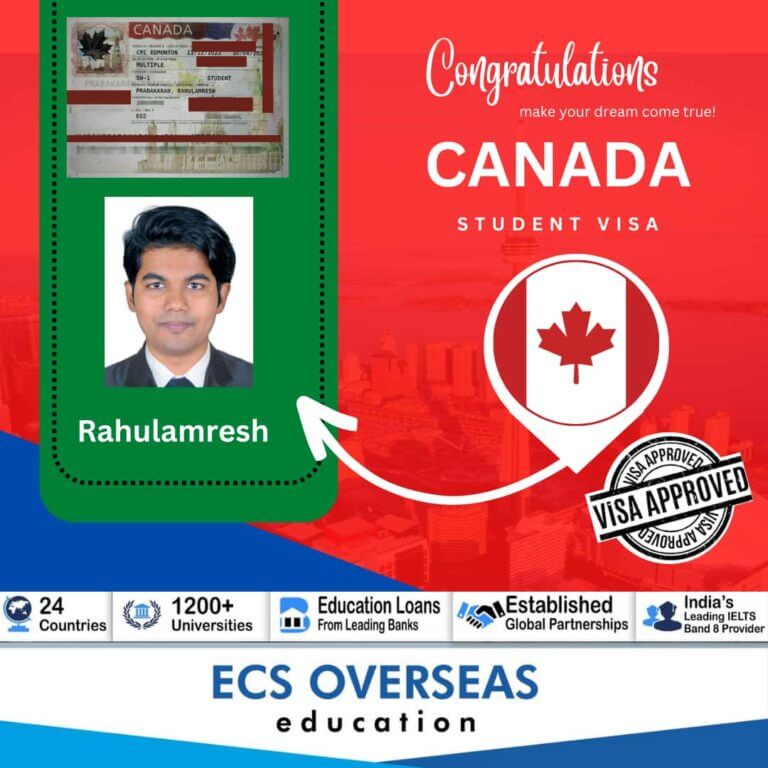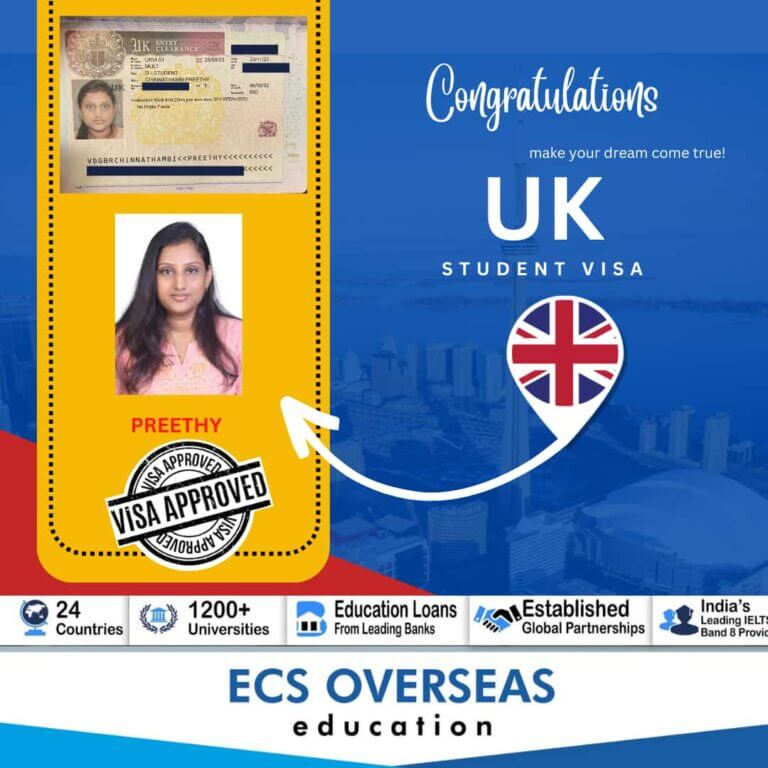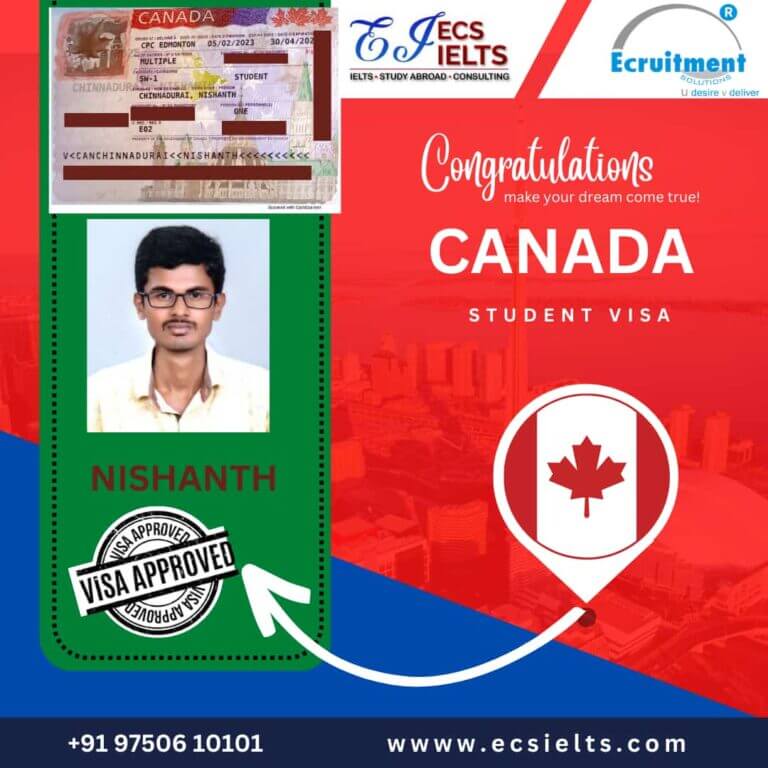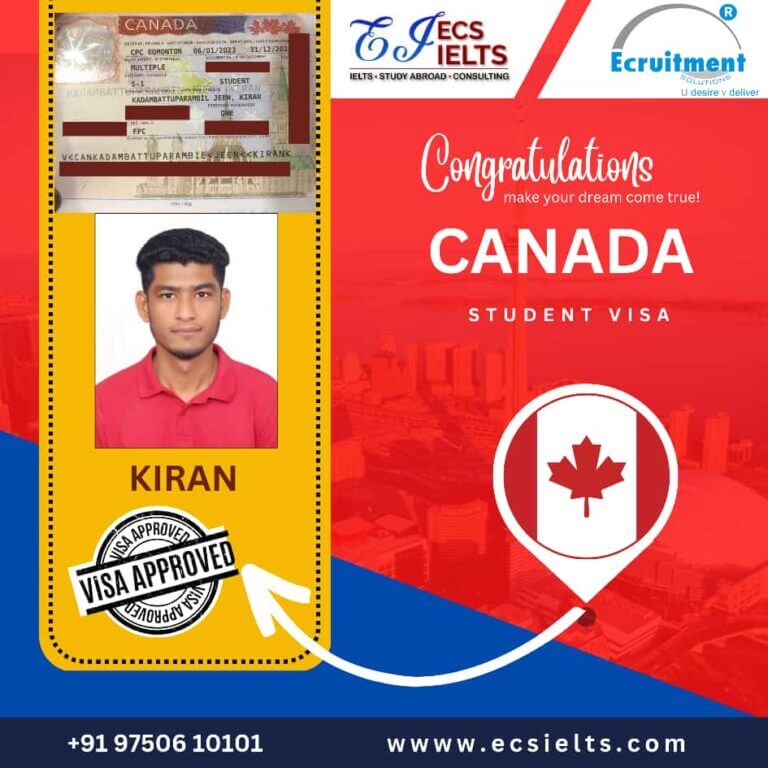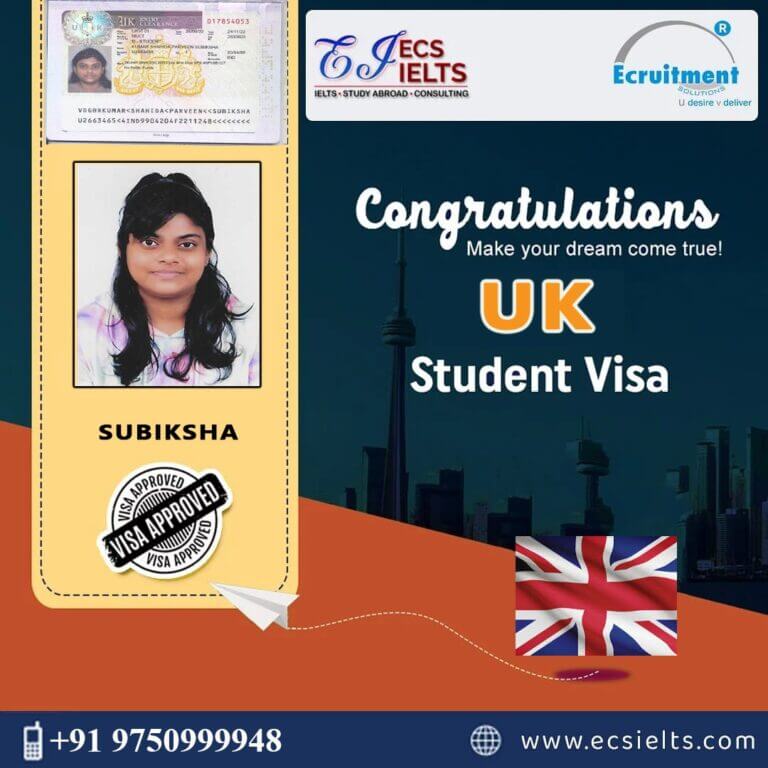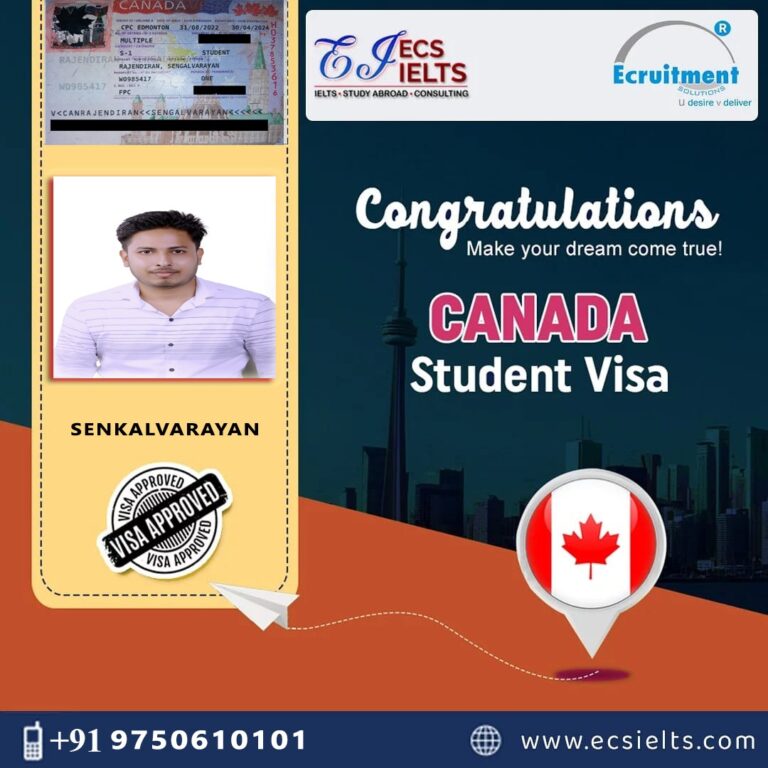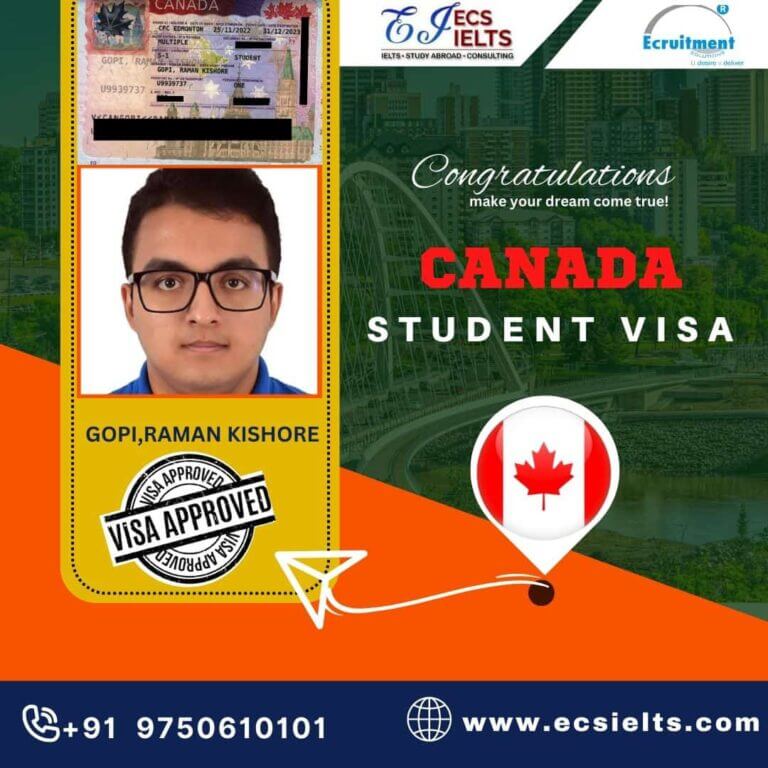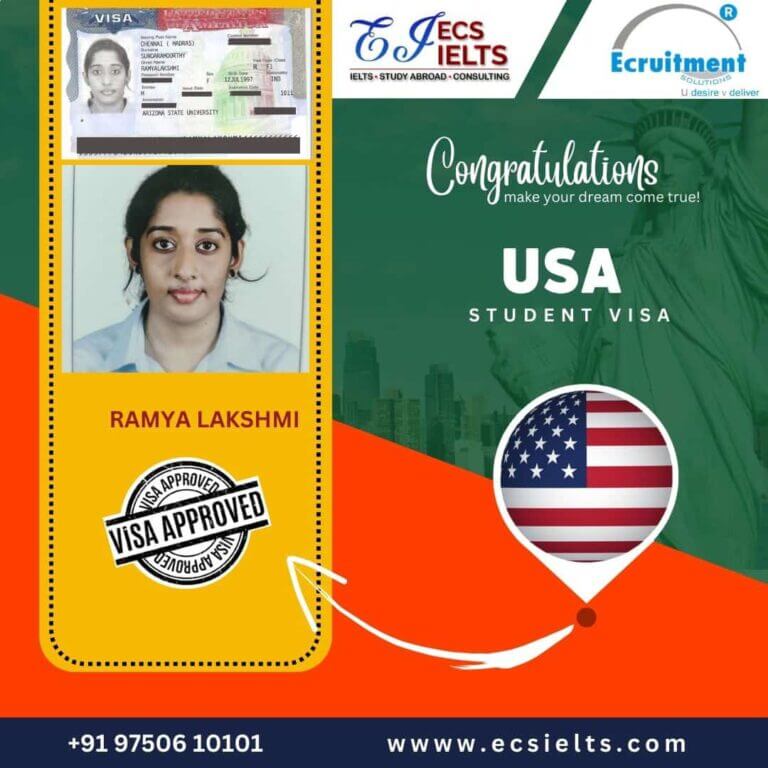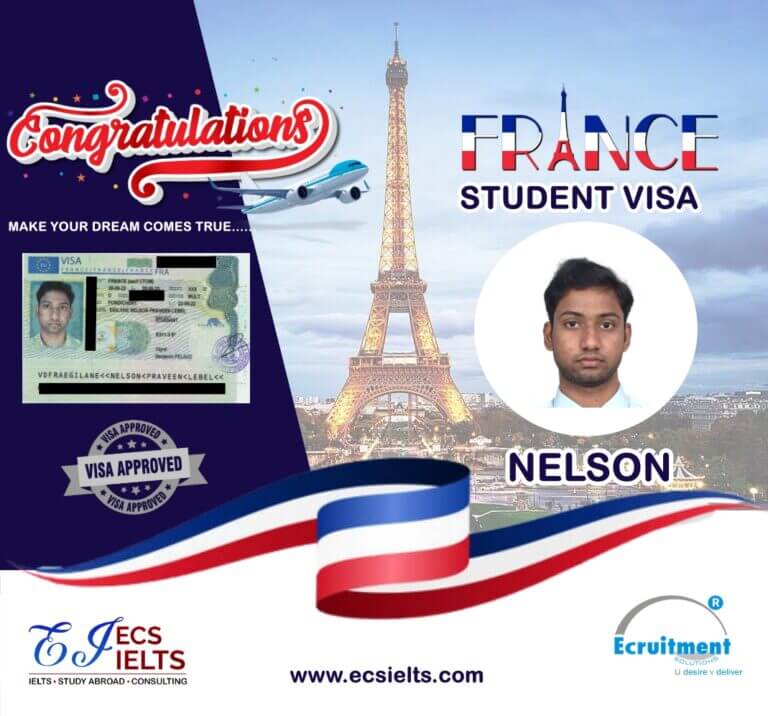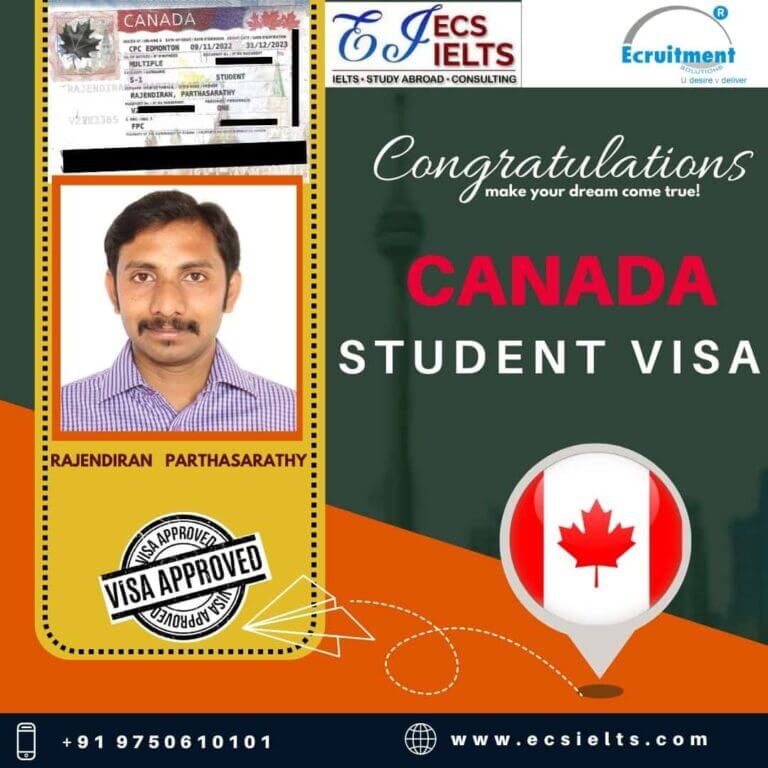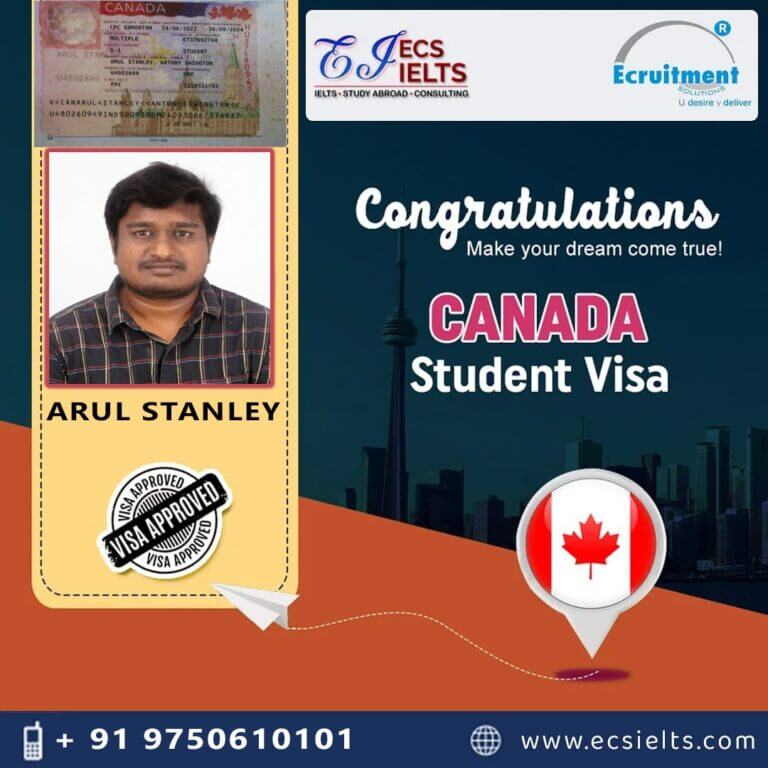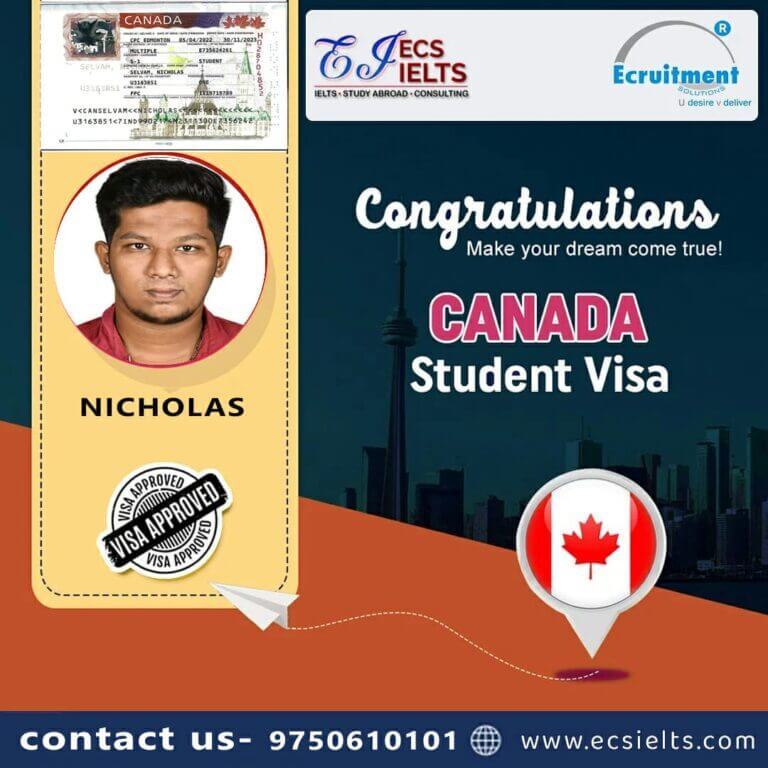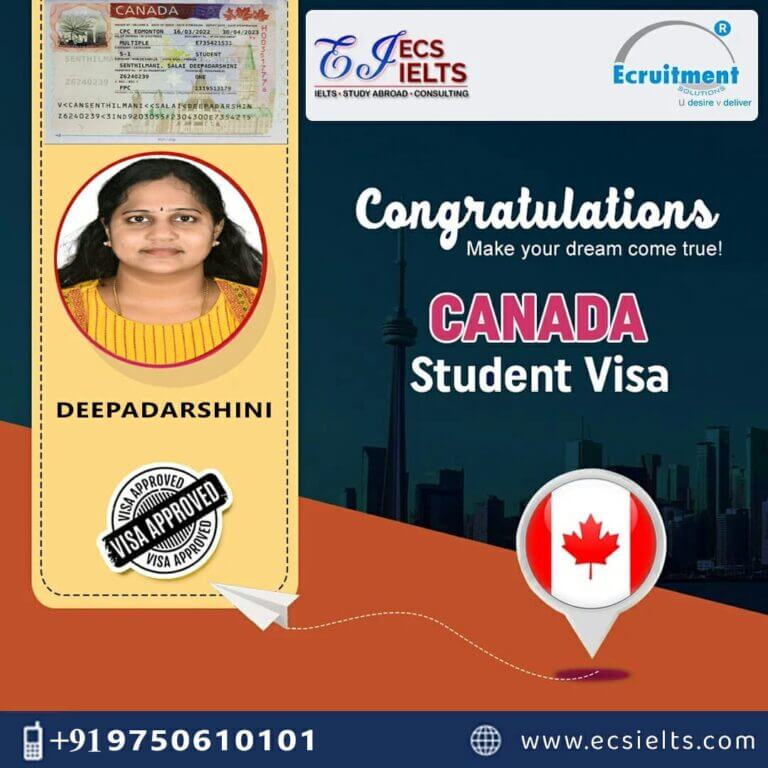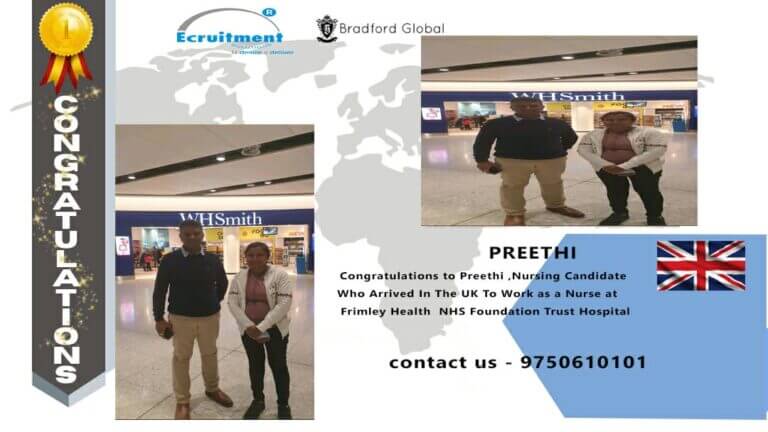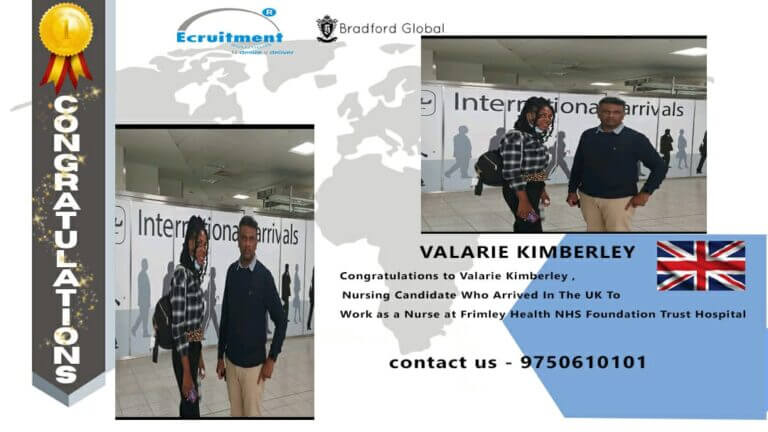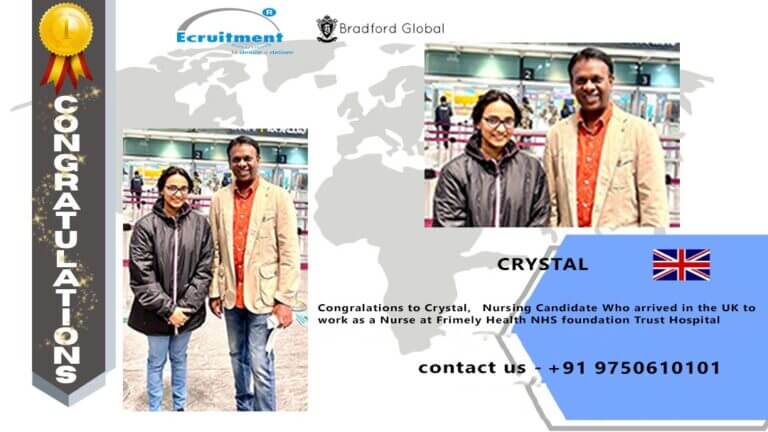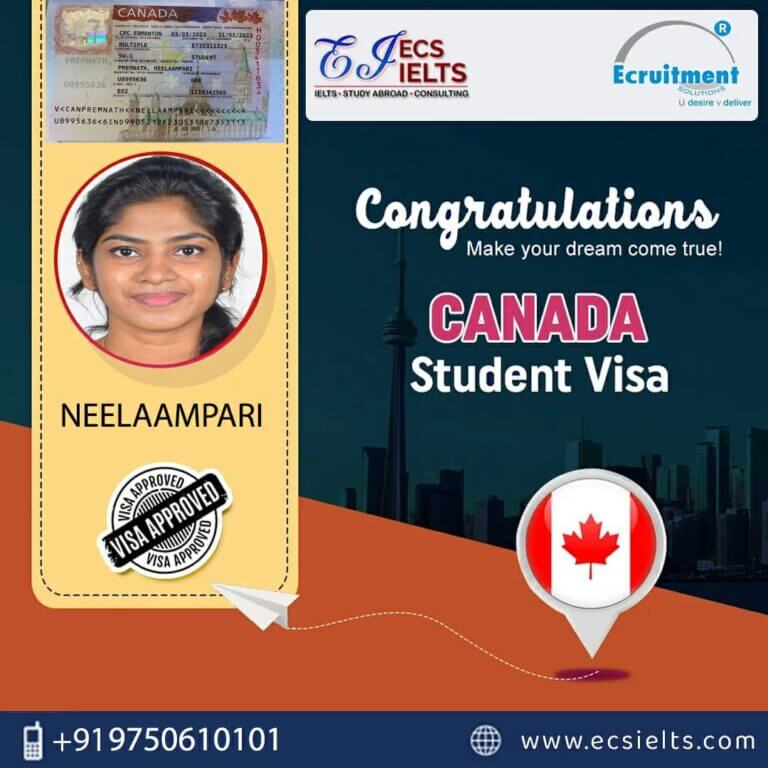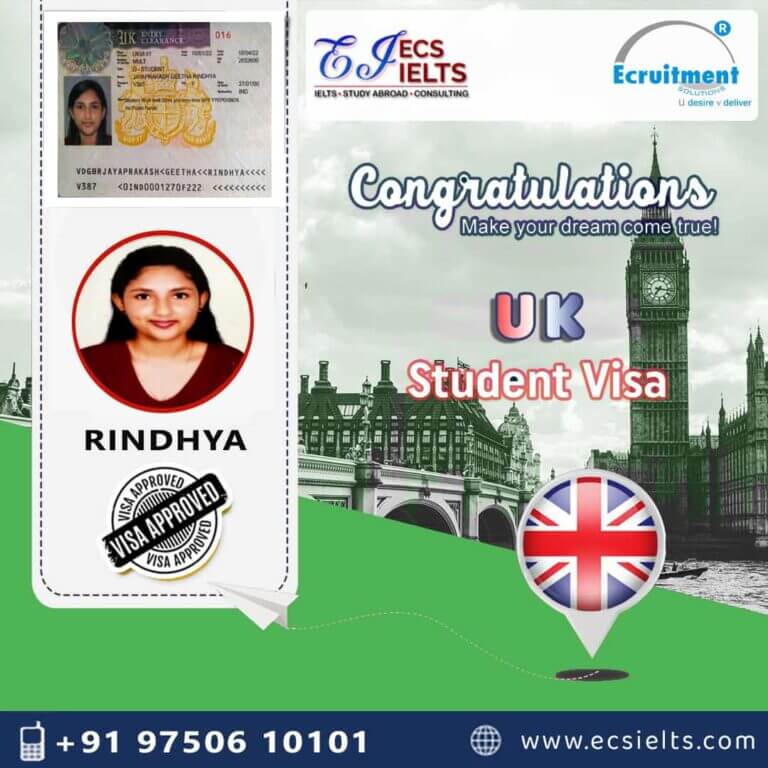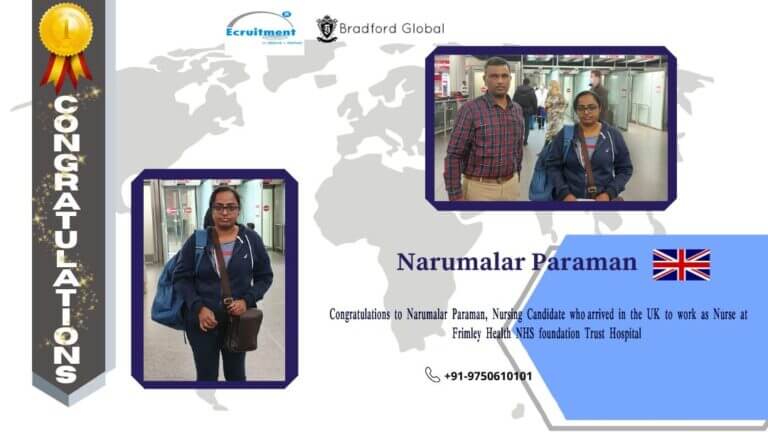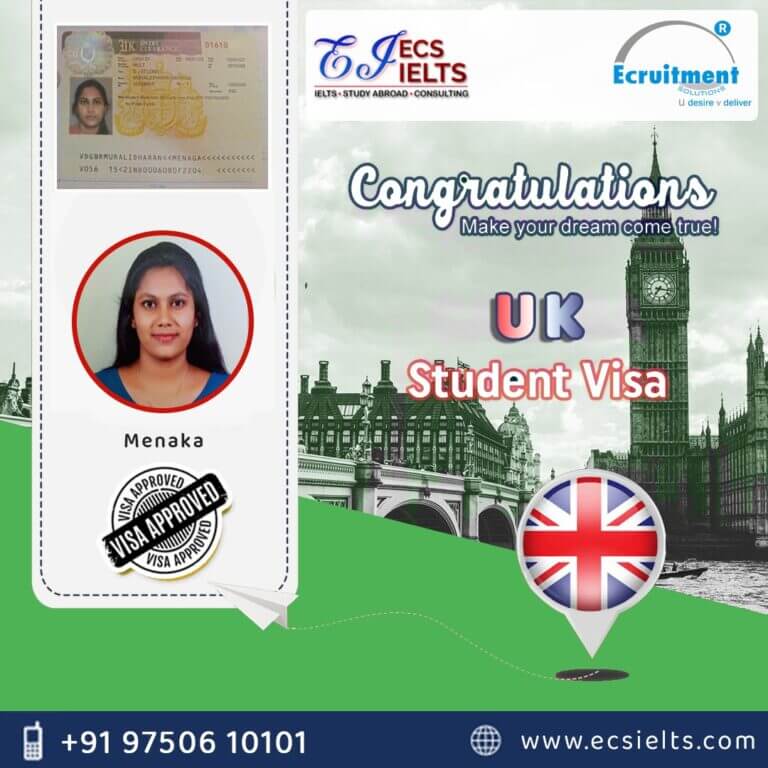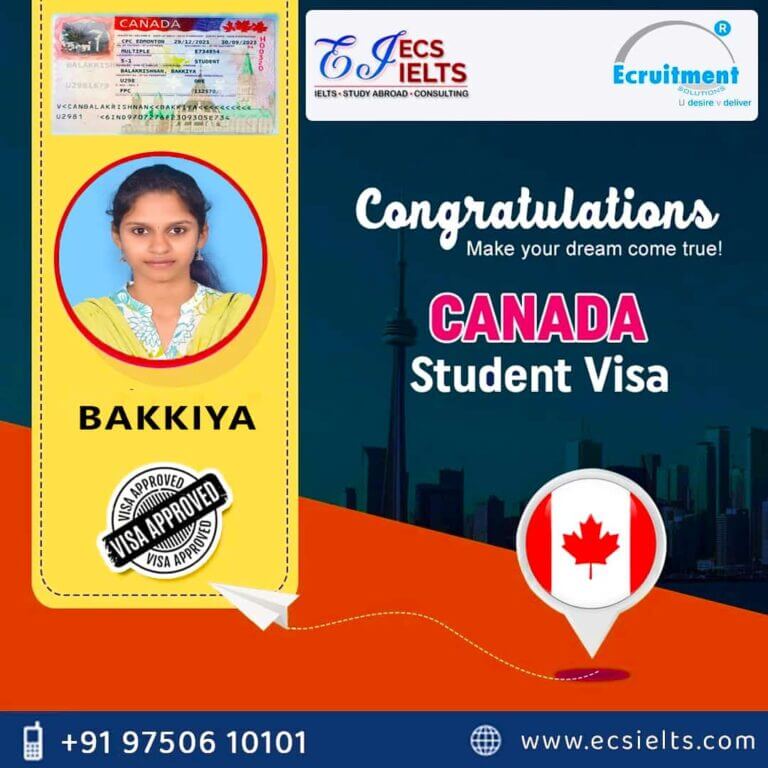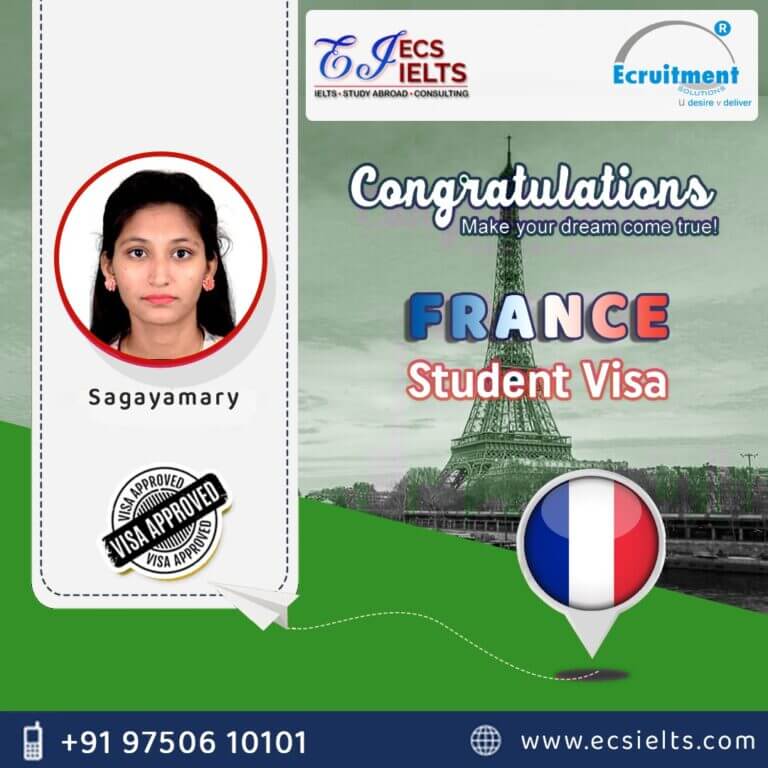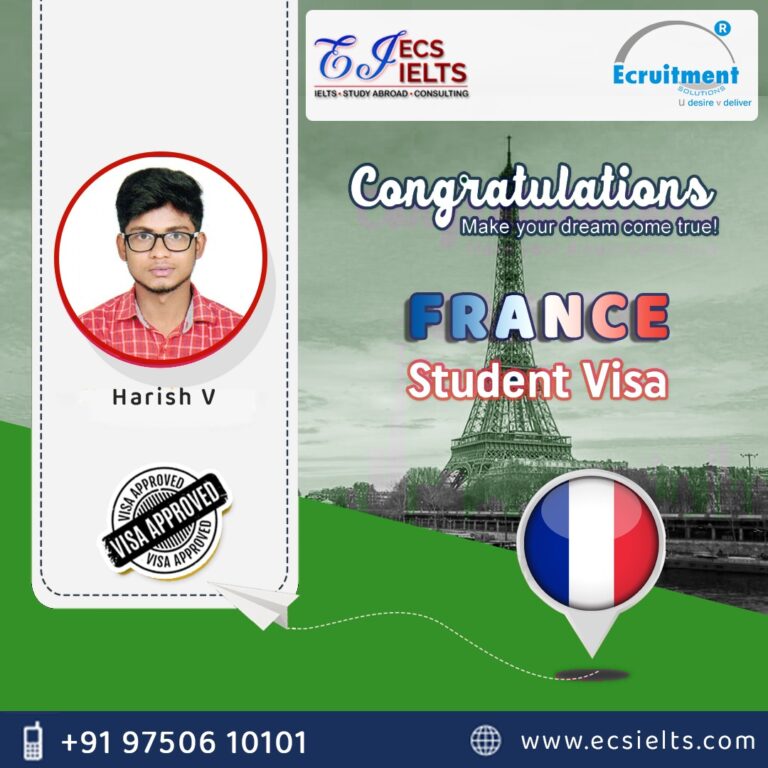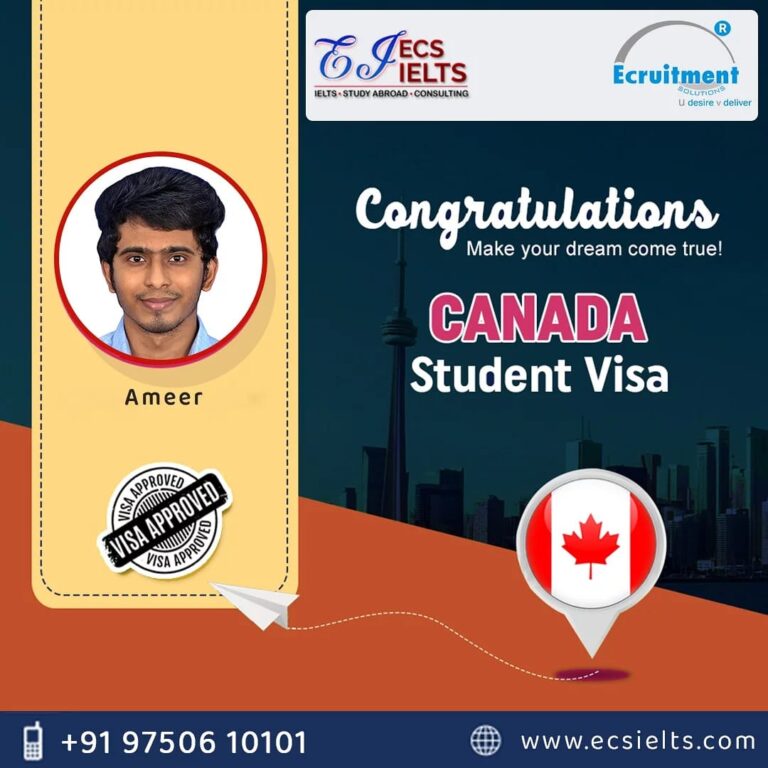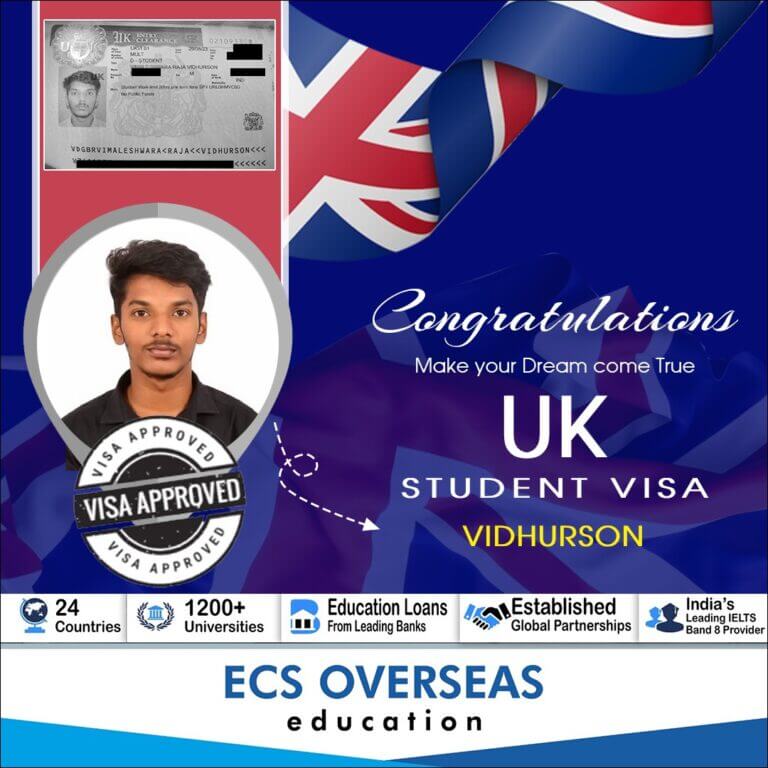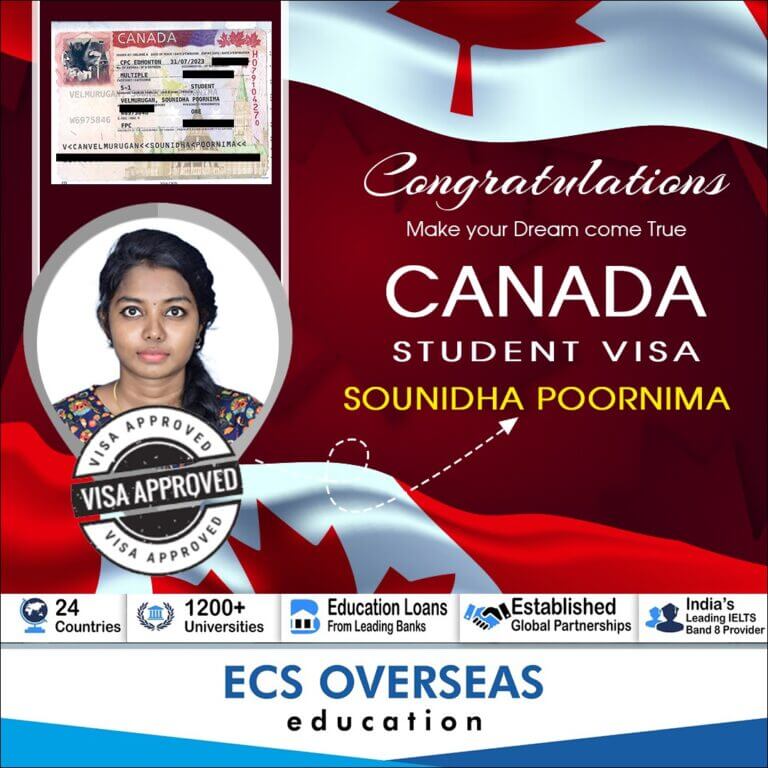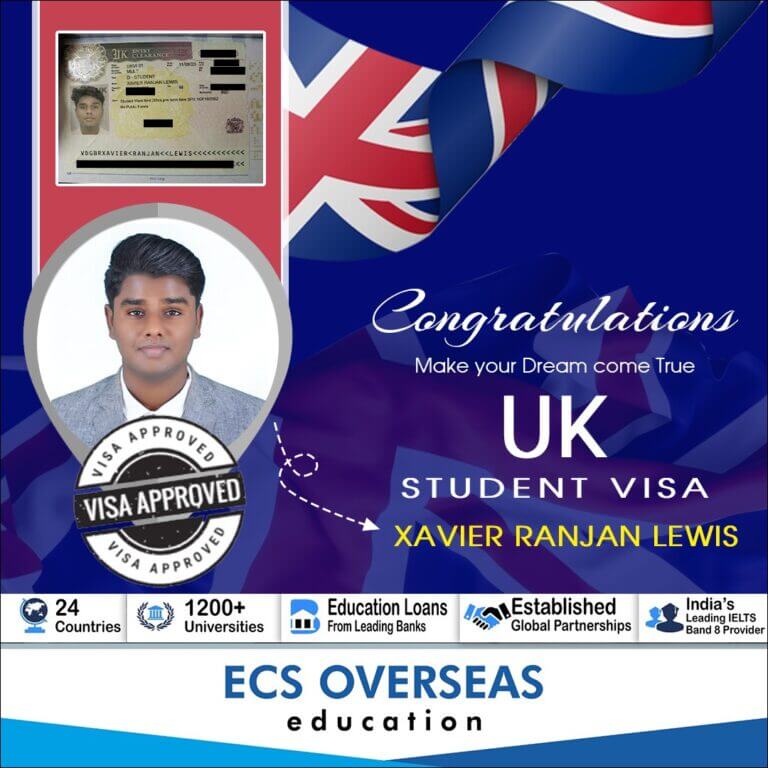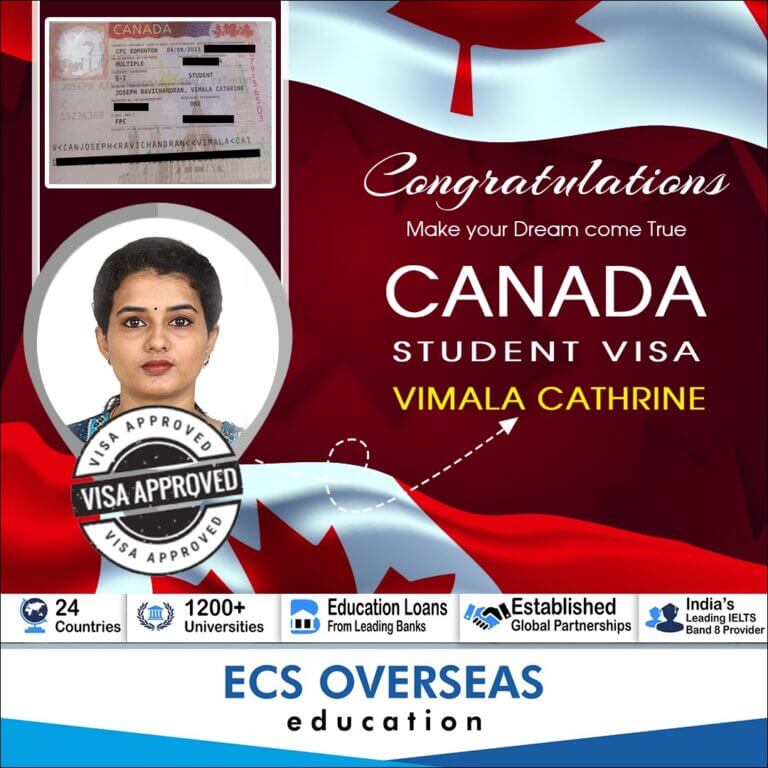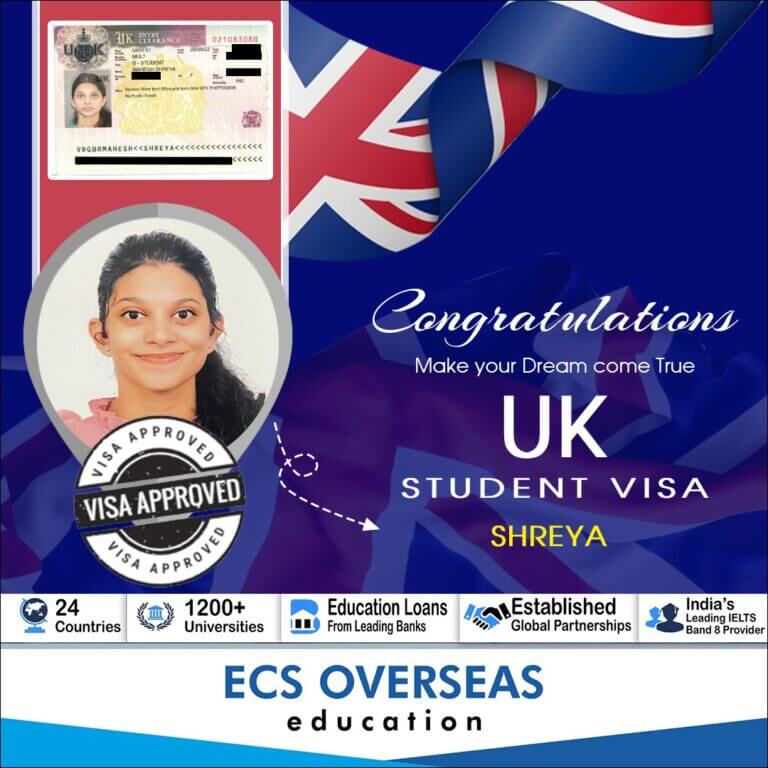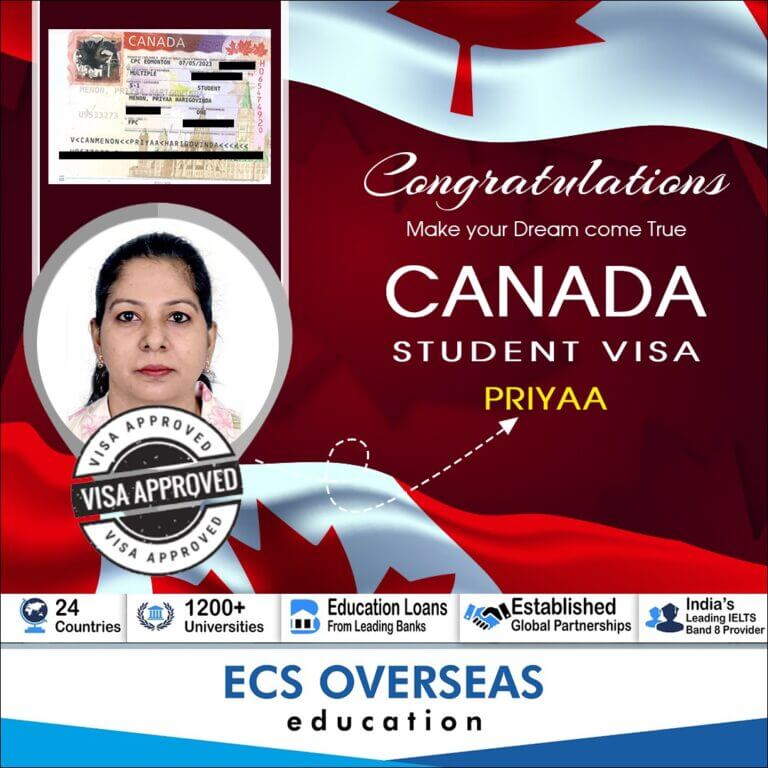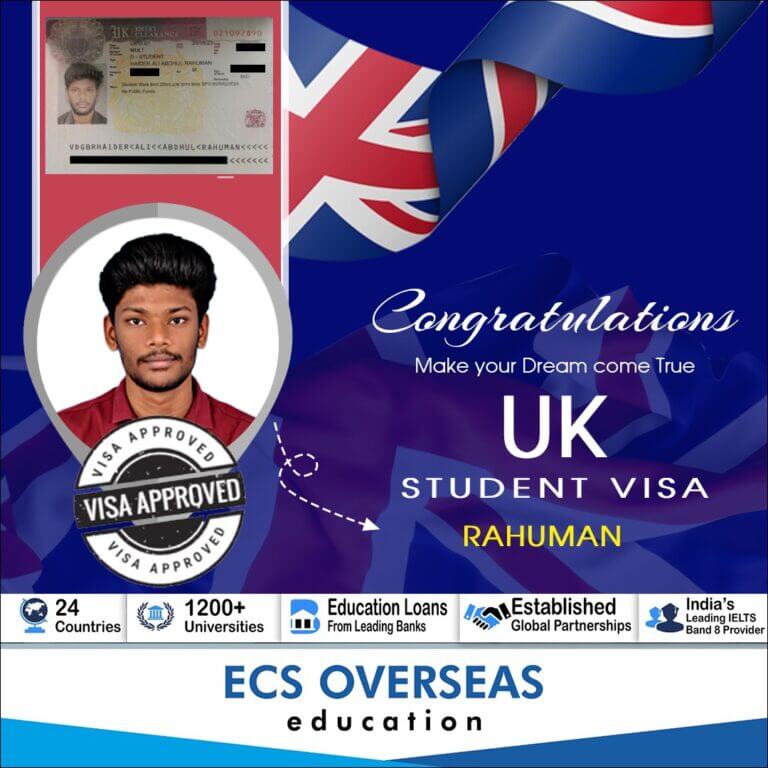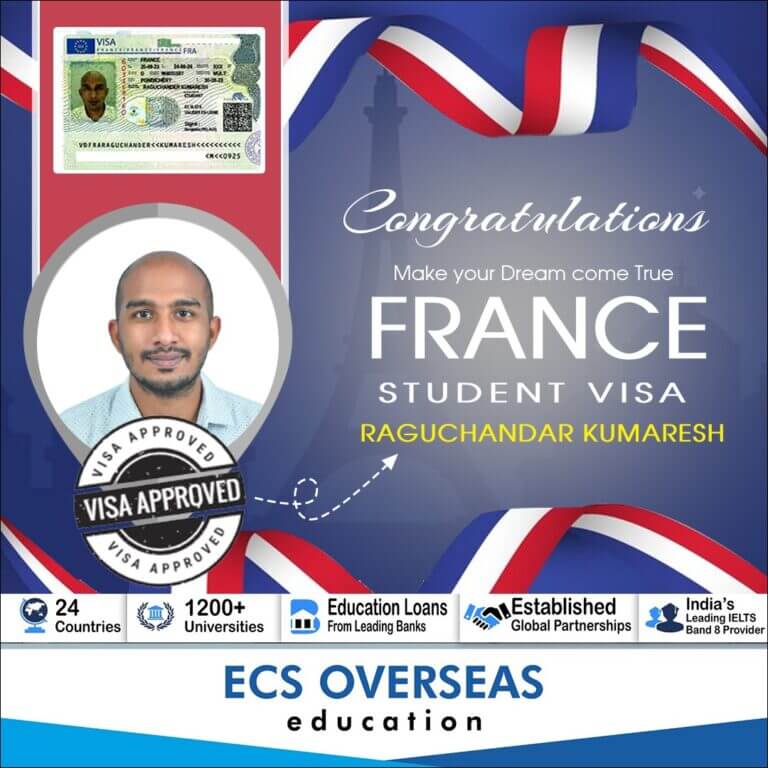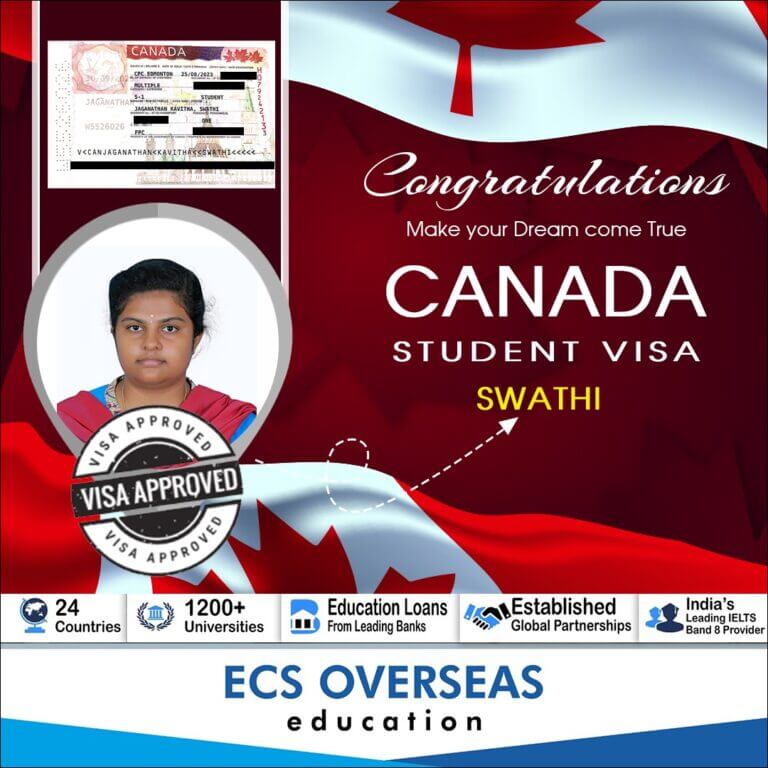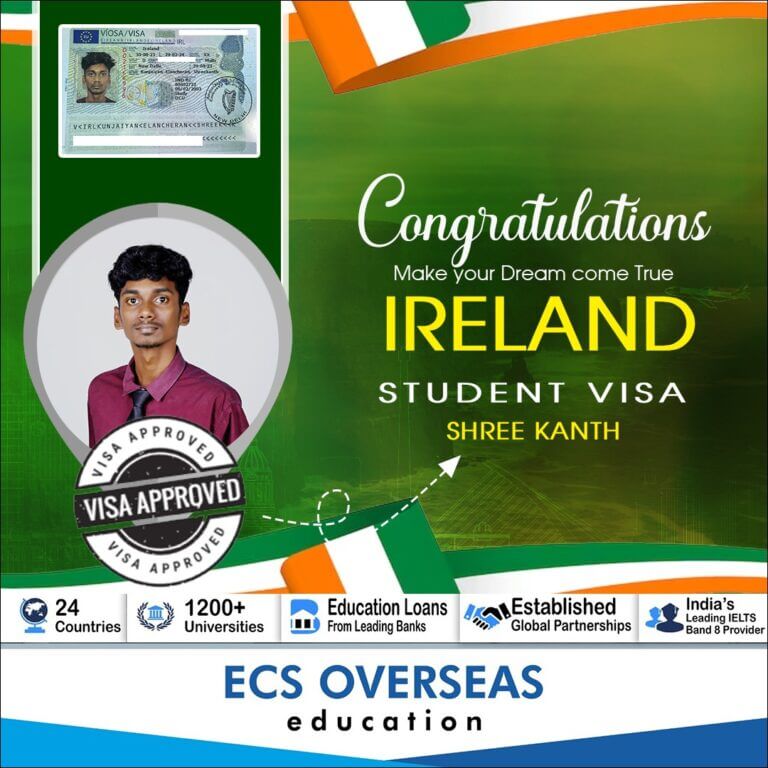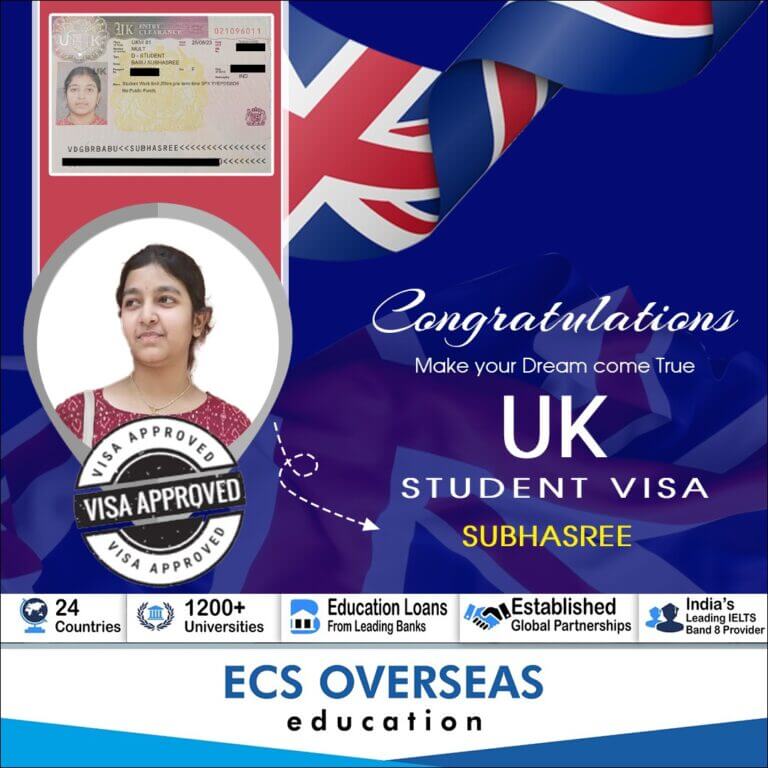 IELTS – International English Language Testing System – Its an Exam to test one's English Language capability and is acknowledged over the globe for various reasons as follows.
To Study in the English Speaking Universities/ Countries
To Work in the English Language Environment
To Move towards other English Native Countries for temporary purposes
To Invest in the places or organizations that is English language based
To get Settled in the English Native Countries permanently
The greater part of the created and creating nations abroad requires a higher band in IELTS running from every one of the reasons mentioned above.
Getting a band 8 in IELTS will enable you to get confirmation in Good Universities in the USA, Australia, Canada, New Zealand and the UK, as this is additionally a noteworthy criteria in understudy affirmation alongside great scholastics. Additionally, you may be qualified for some grant program dependent on your IELTS score.
A decent IELTS score will likewise enable you to break your visa meet at the USA international safe haven. There are numerous advantages of getting a decent IELTS score which can be utilized for different purposes.
There is no pass or fail in IELTS examination. You will be benefited by your high band scores. So Score more and more depending upon the reason and the value you are looking for.
Top Scores of ECS, Best IELTS Coaching Centre in Velachery Chennai are listed here for your reference.
---
As we already aware of the four parts of the IELTS Exam i.e. Listening, Reading, Writing and Speaking. The candidates will be given scores from 0-9 for each part of the test. By the average of these 4 parts you they will be getting the overall band score which will range from 0-9. It can be the whole number or with 0.5 values. (Example: 4.5, 7, 8.5,9,..)
So you can easily get your overall band score with the help of Band Score Calculator. Make use of it.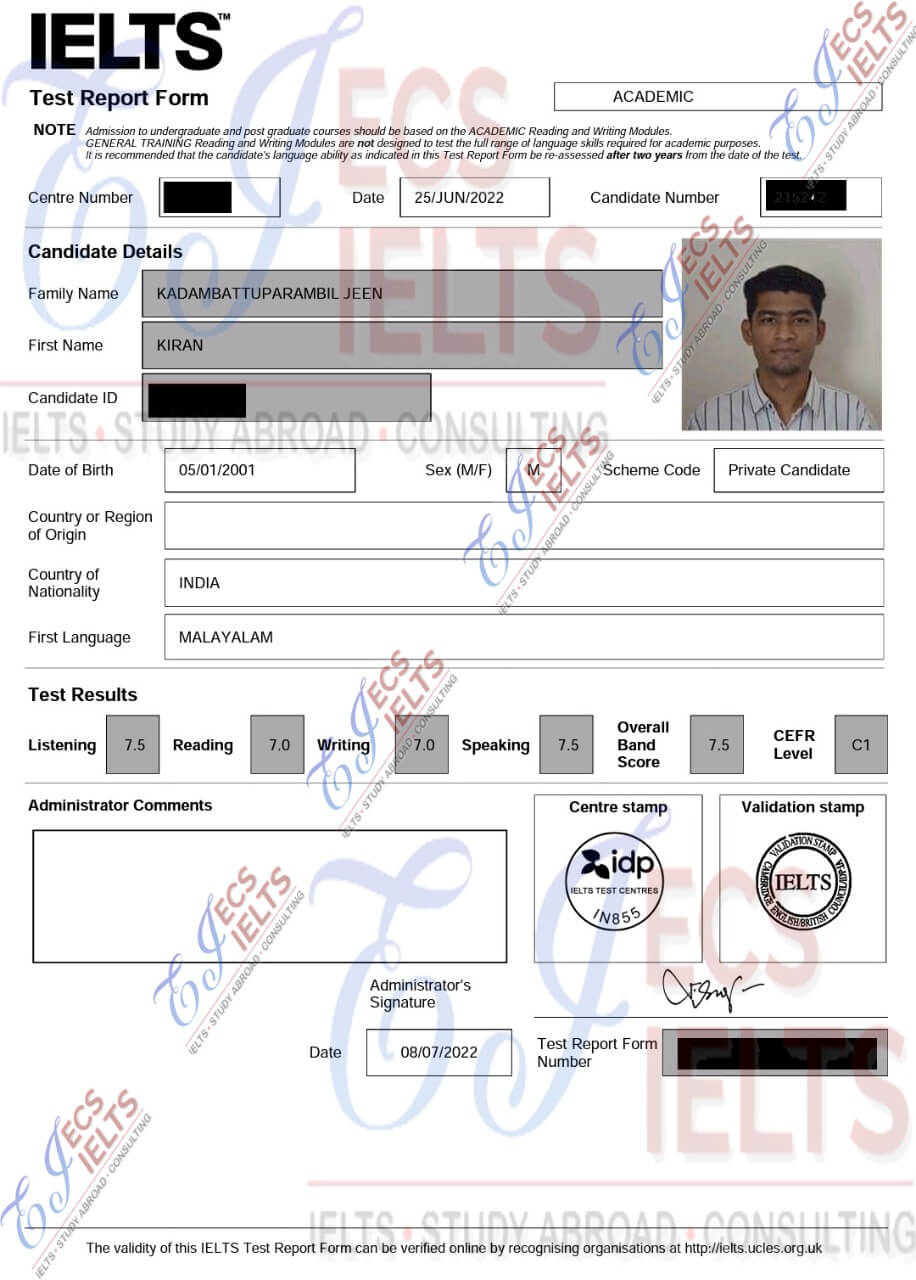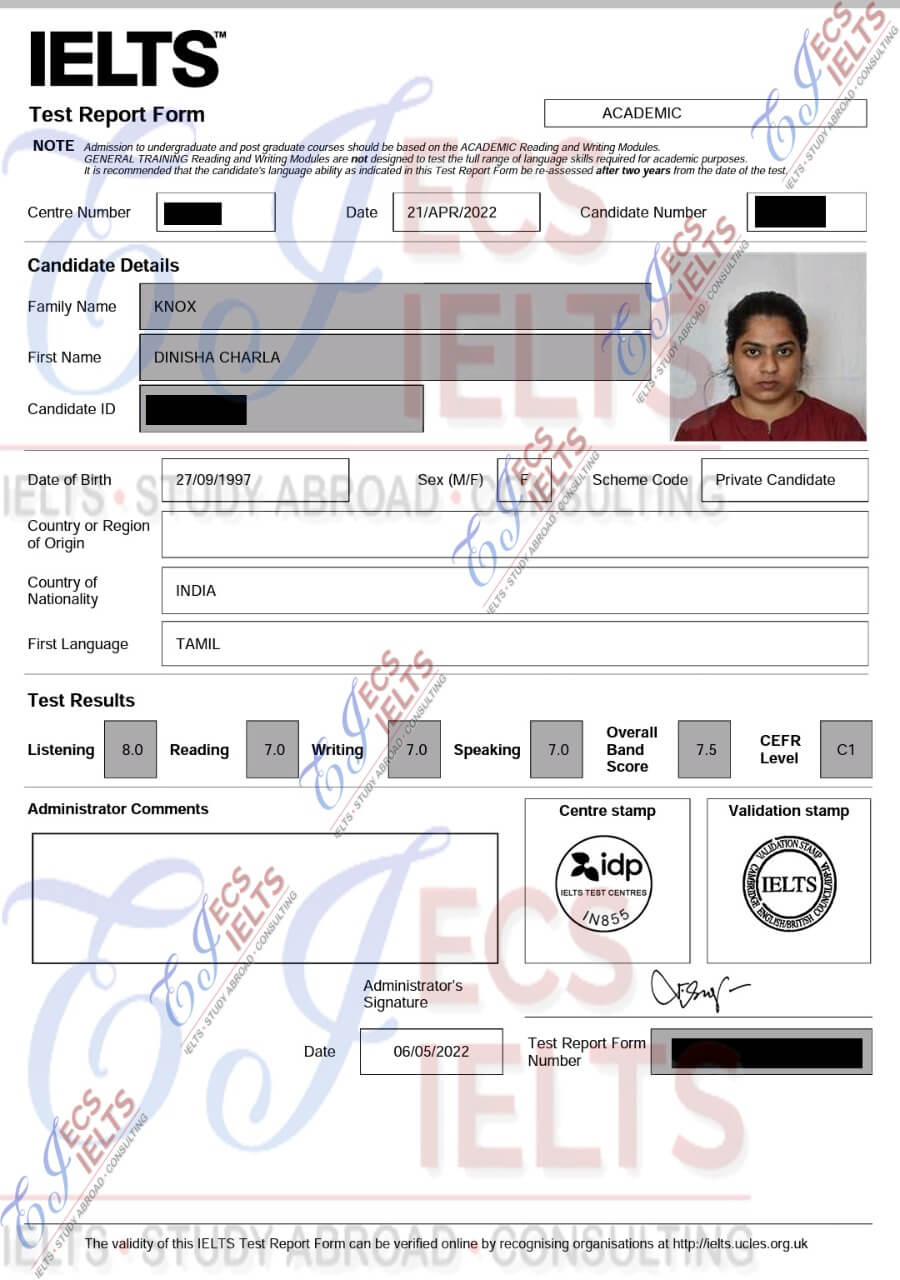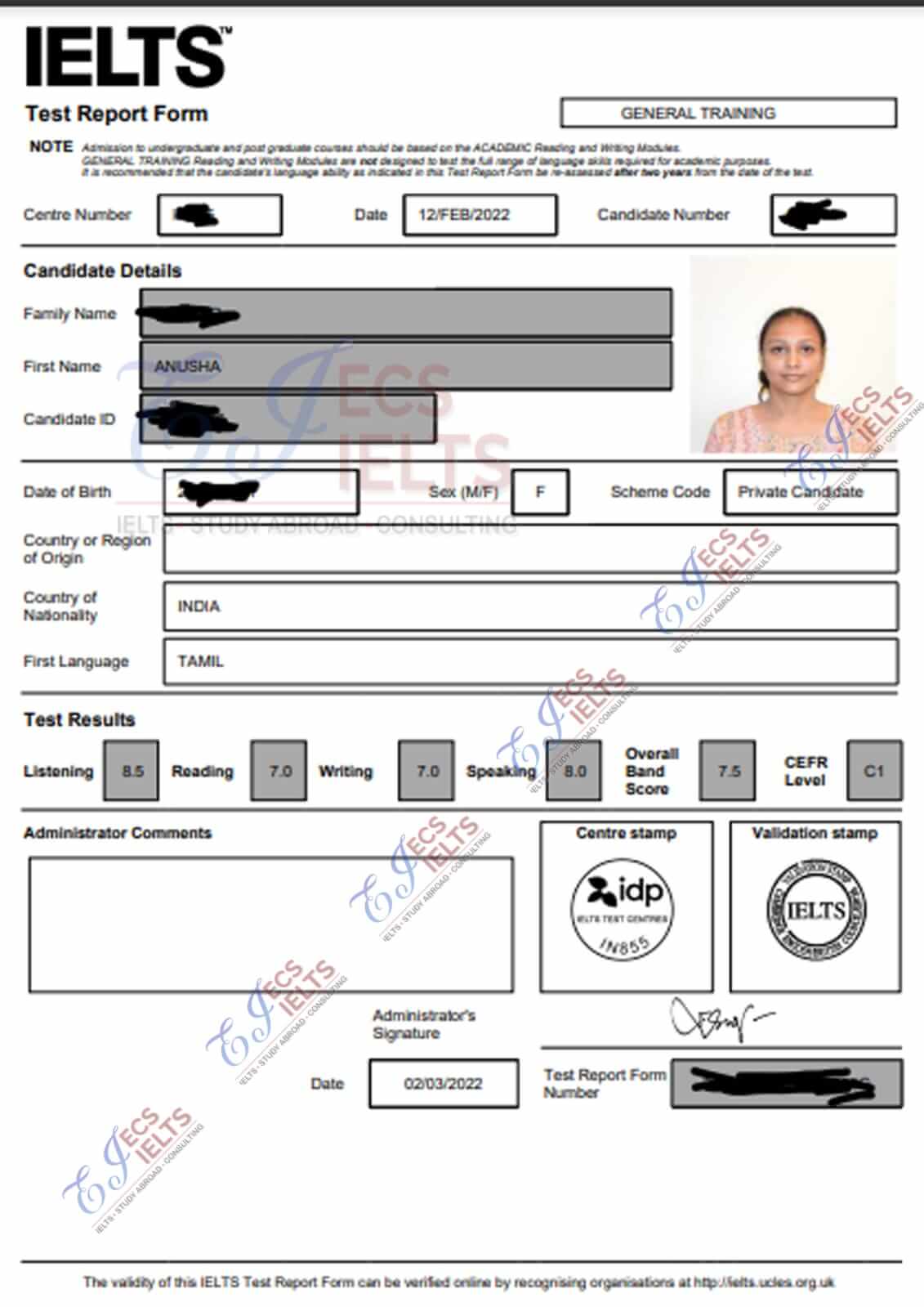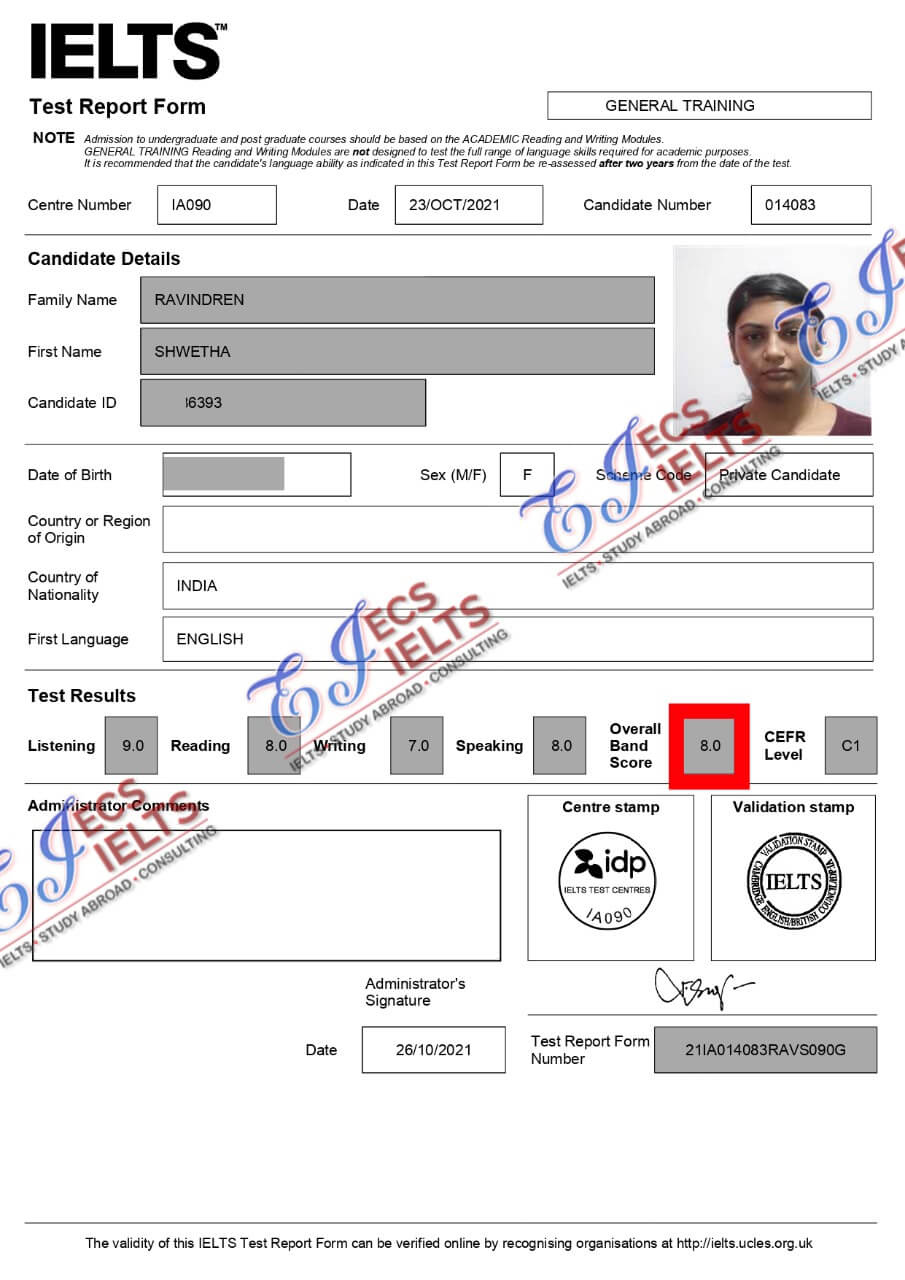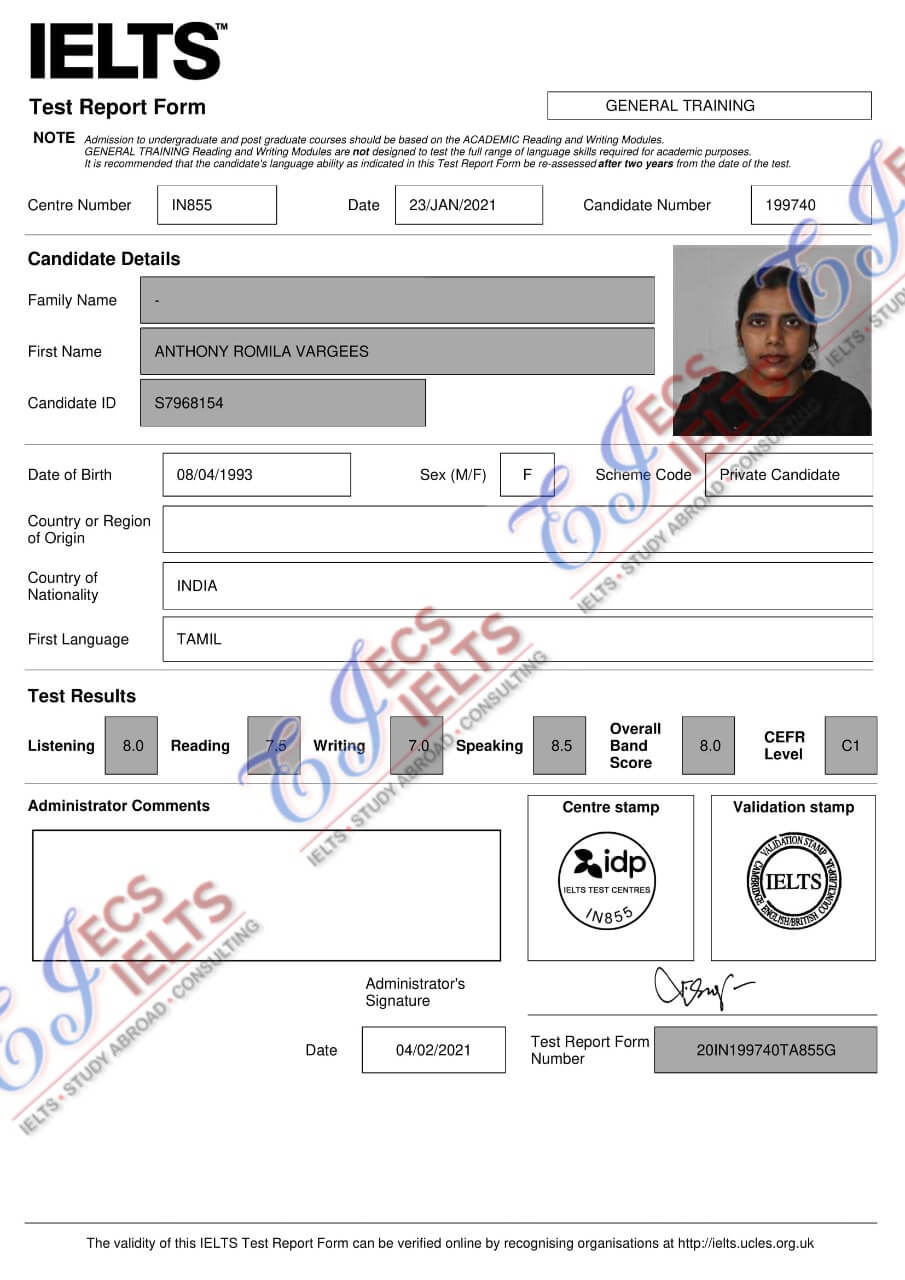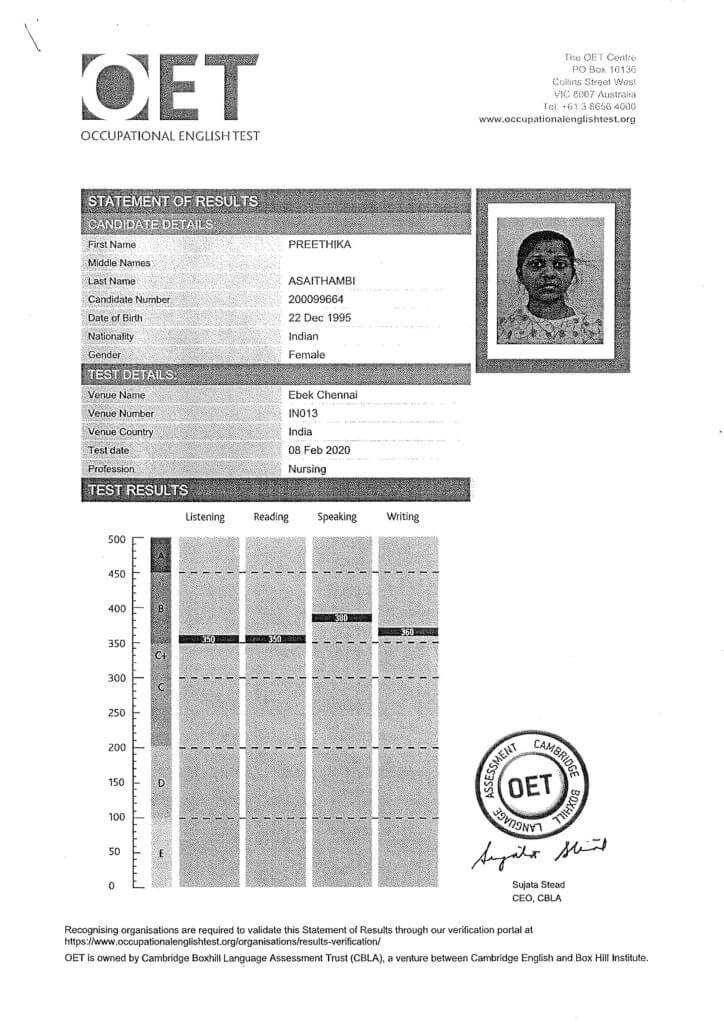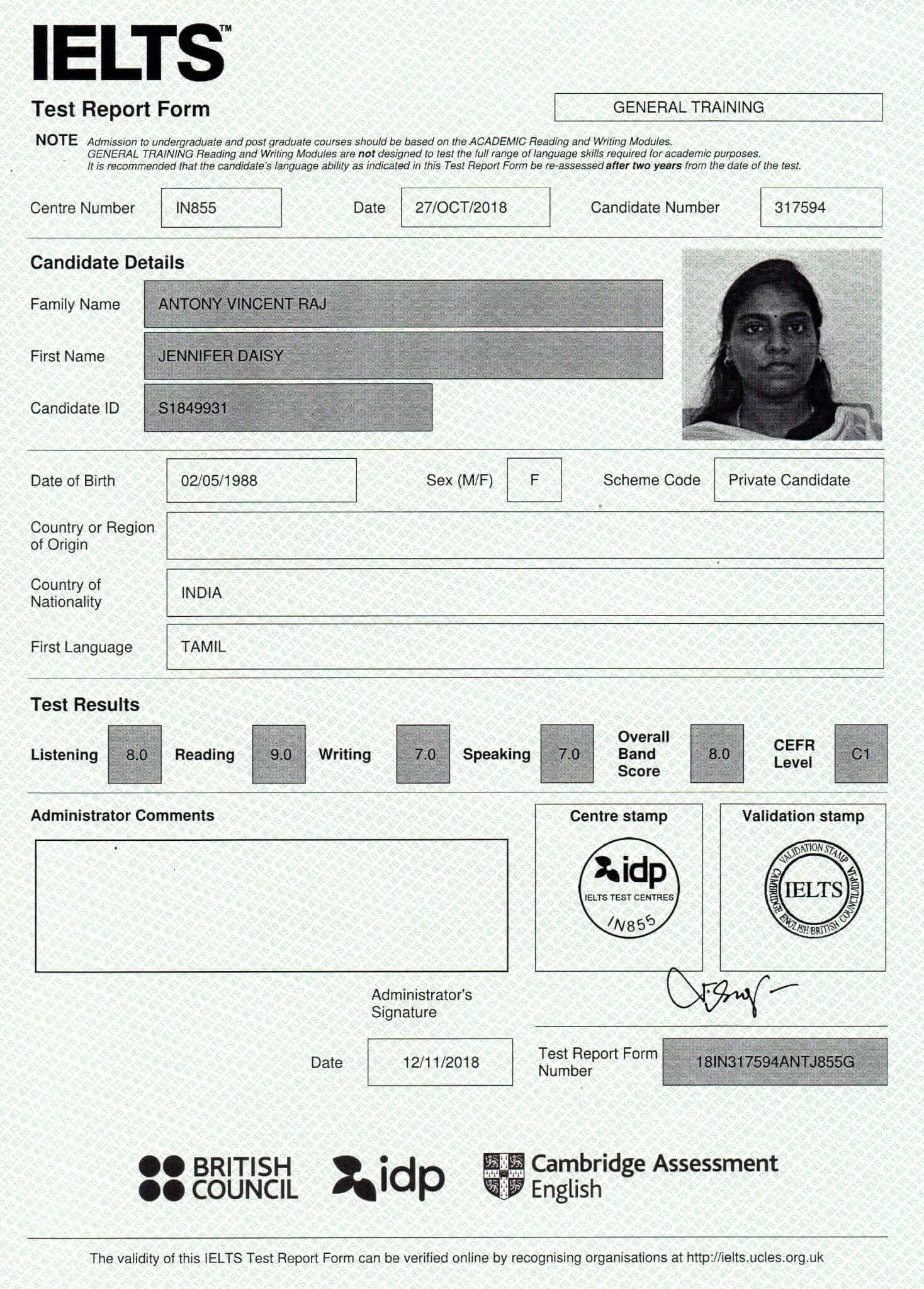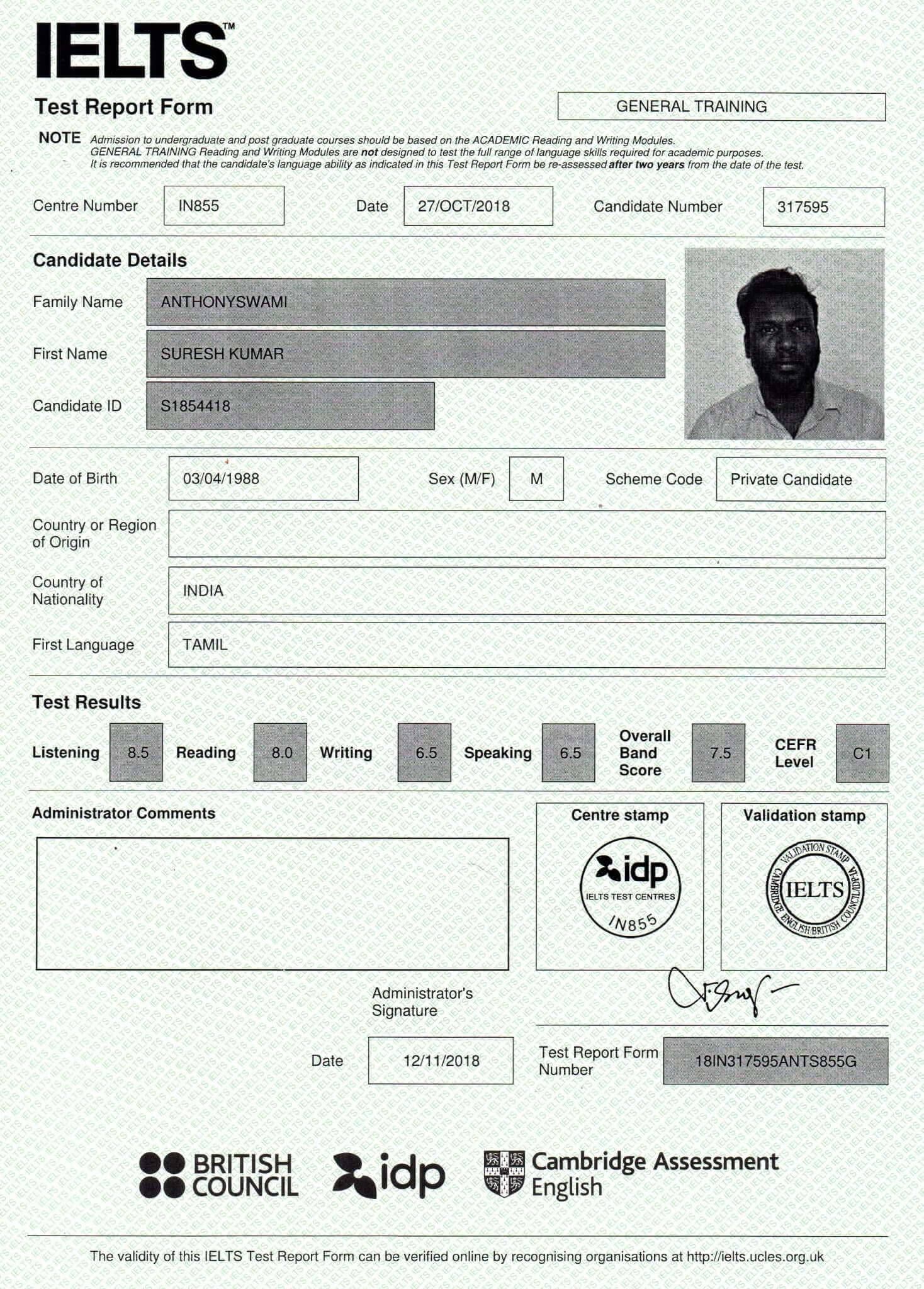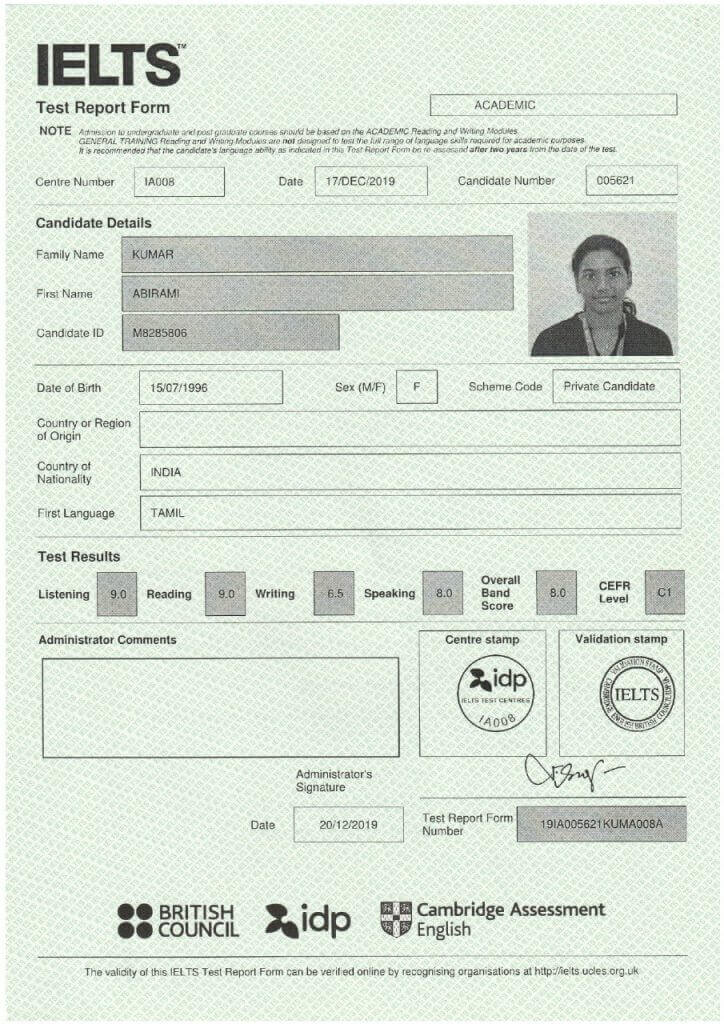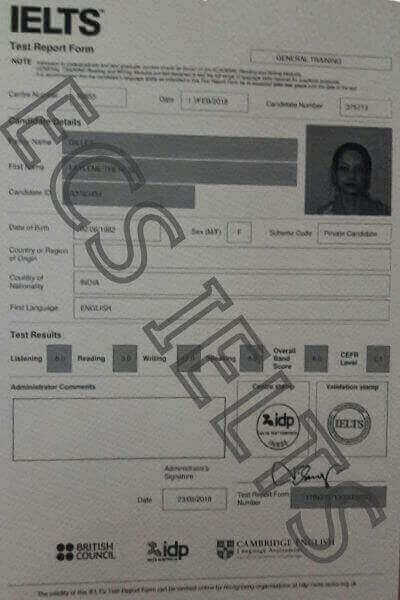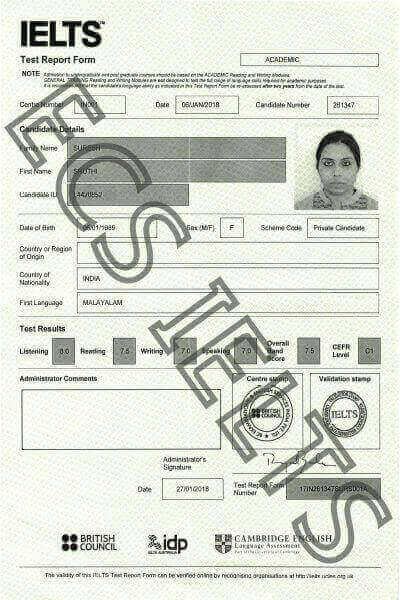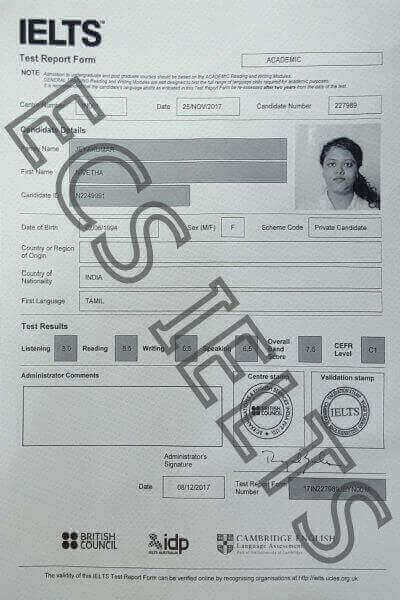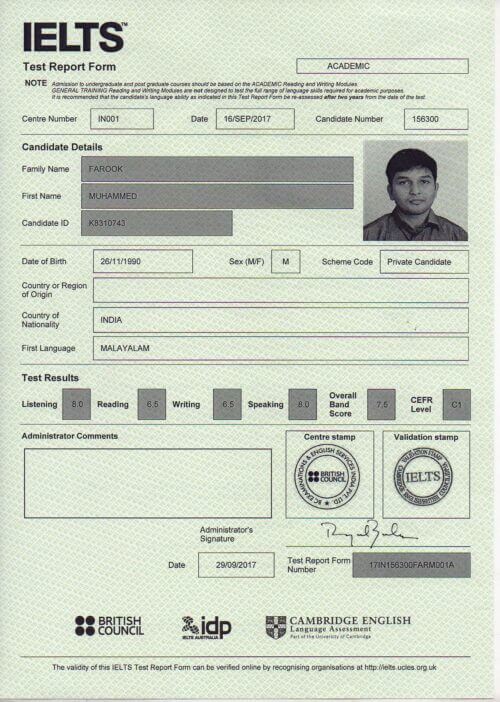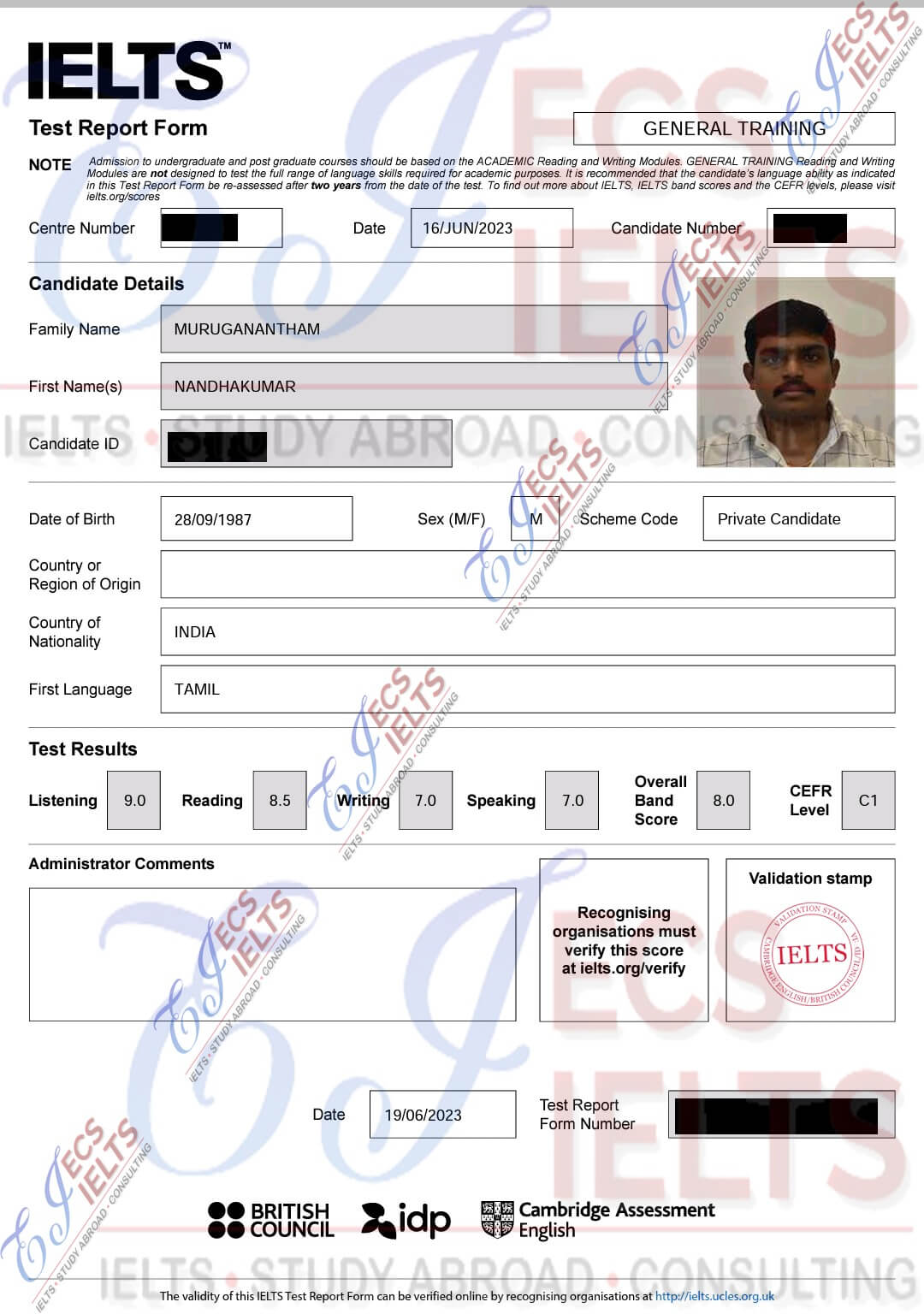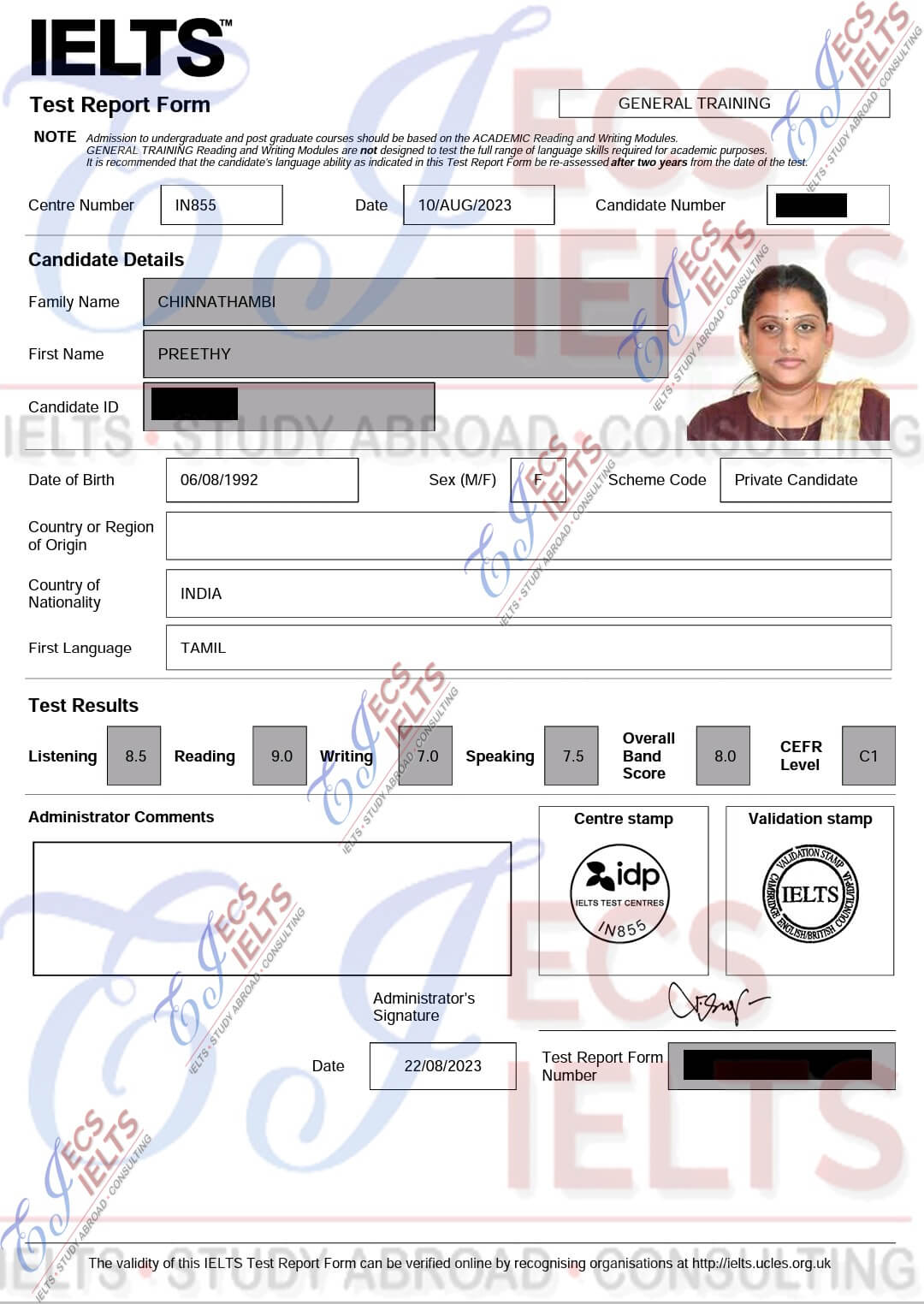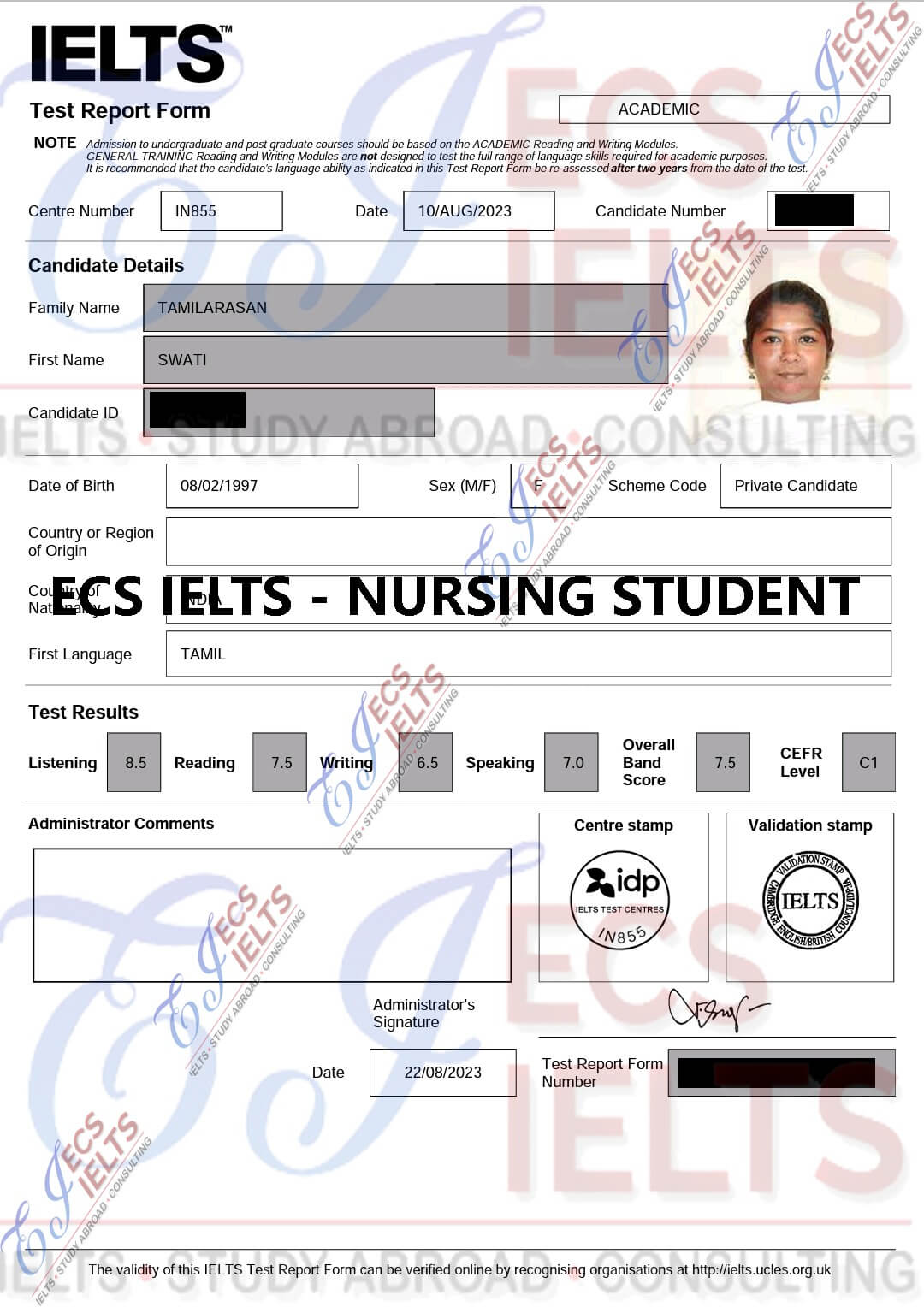 ---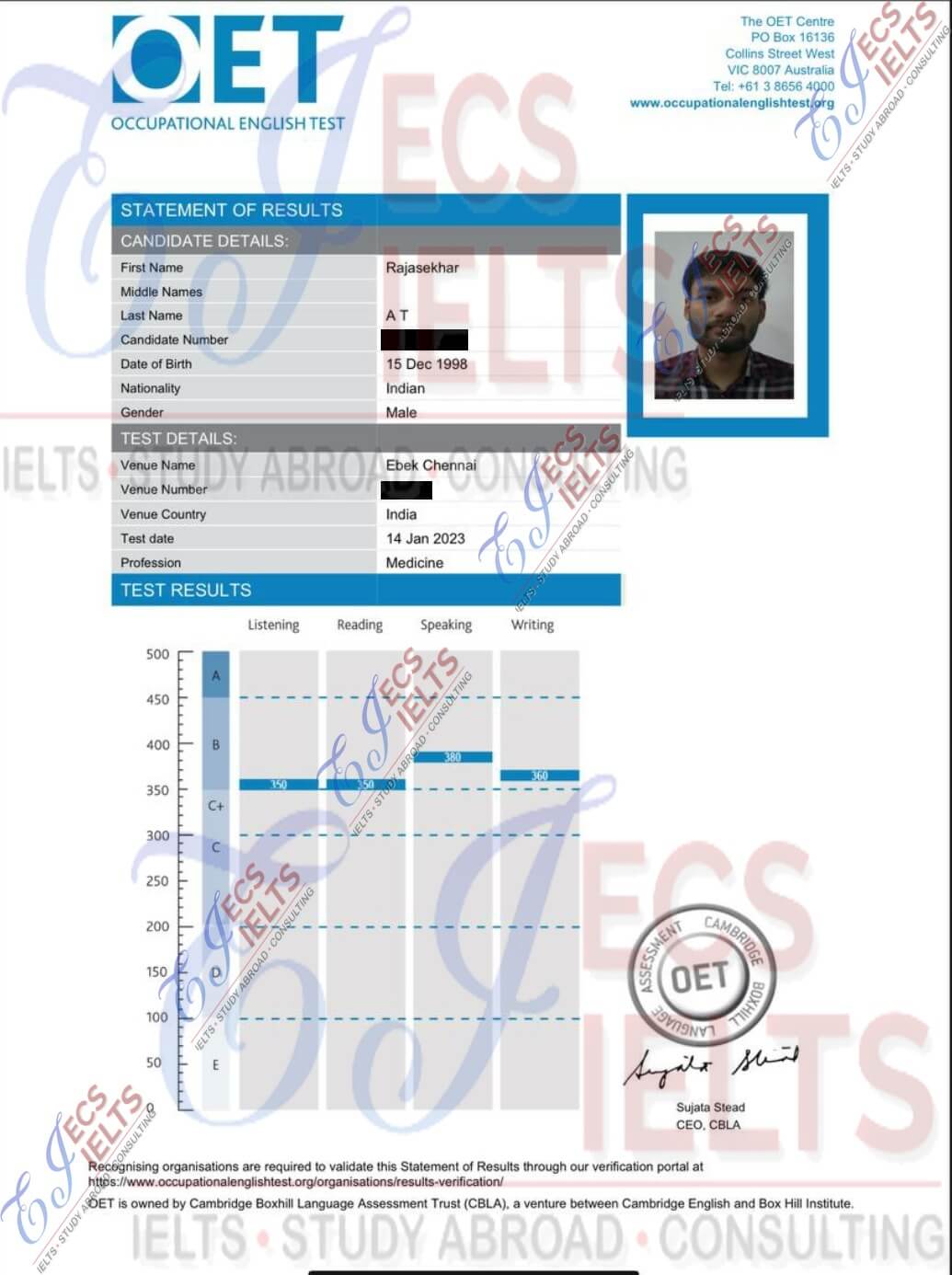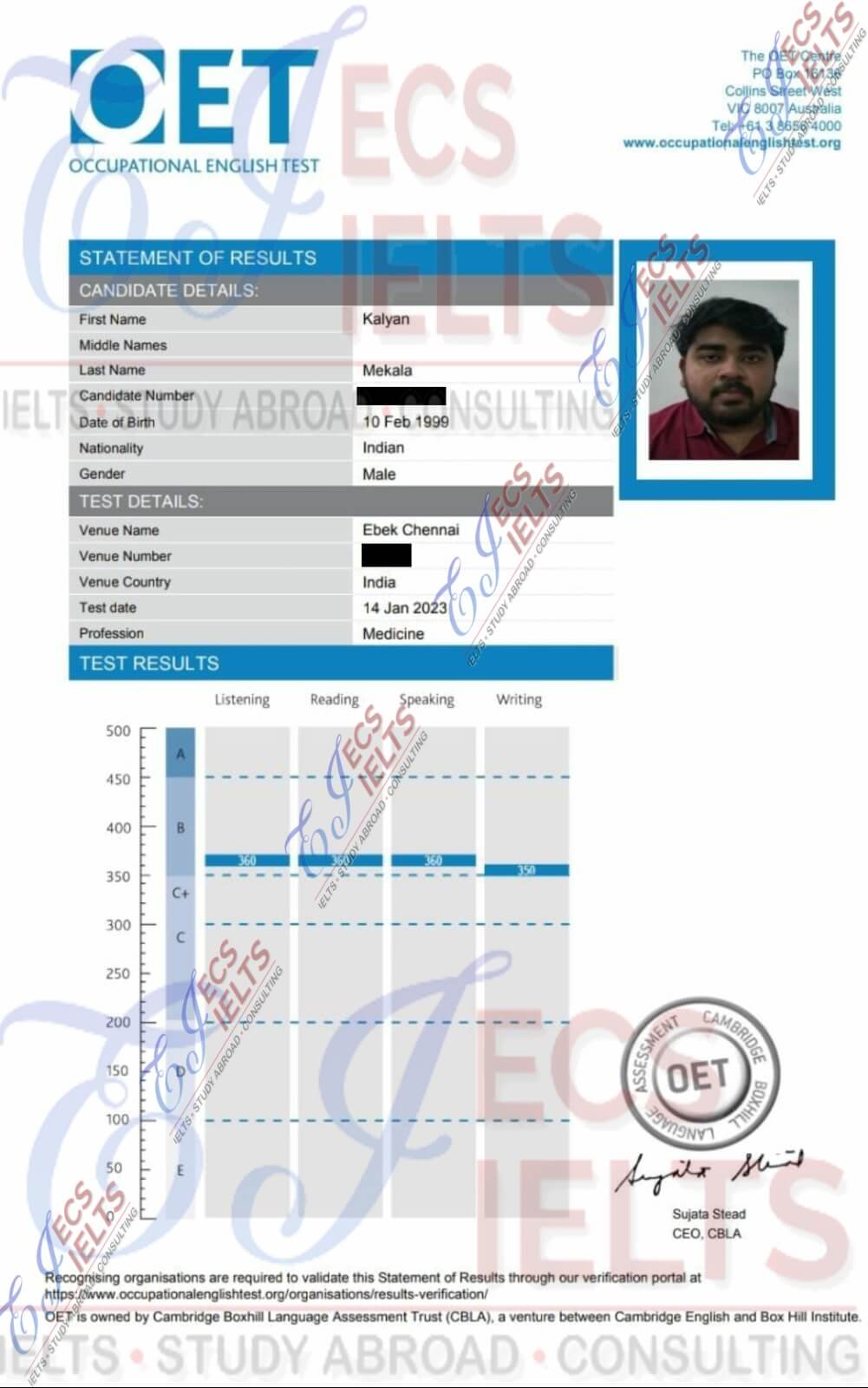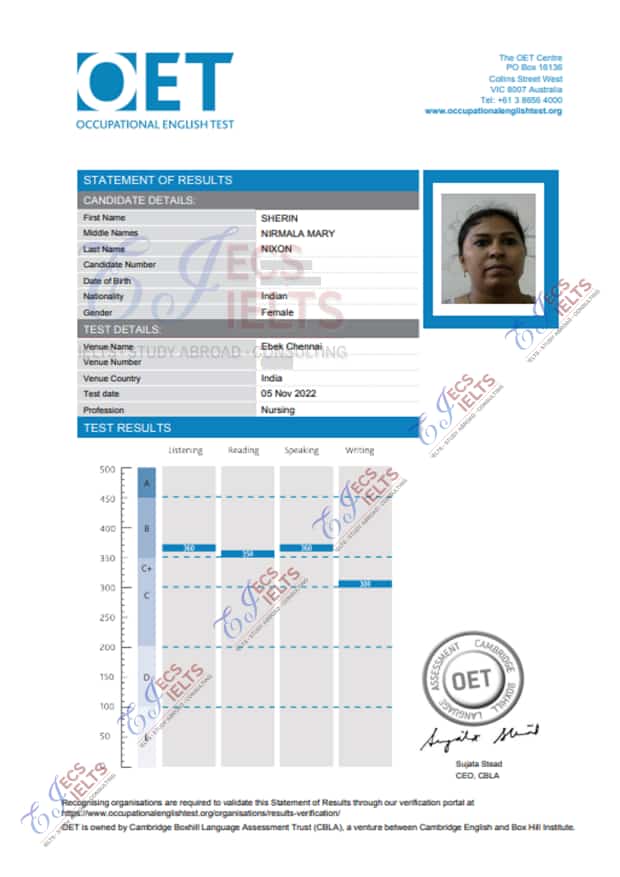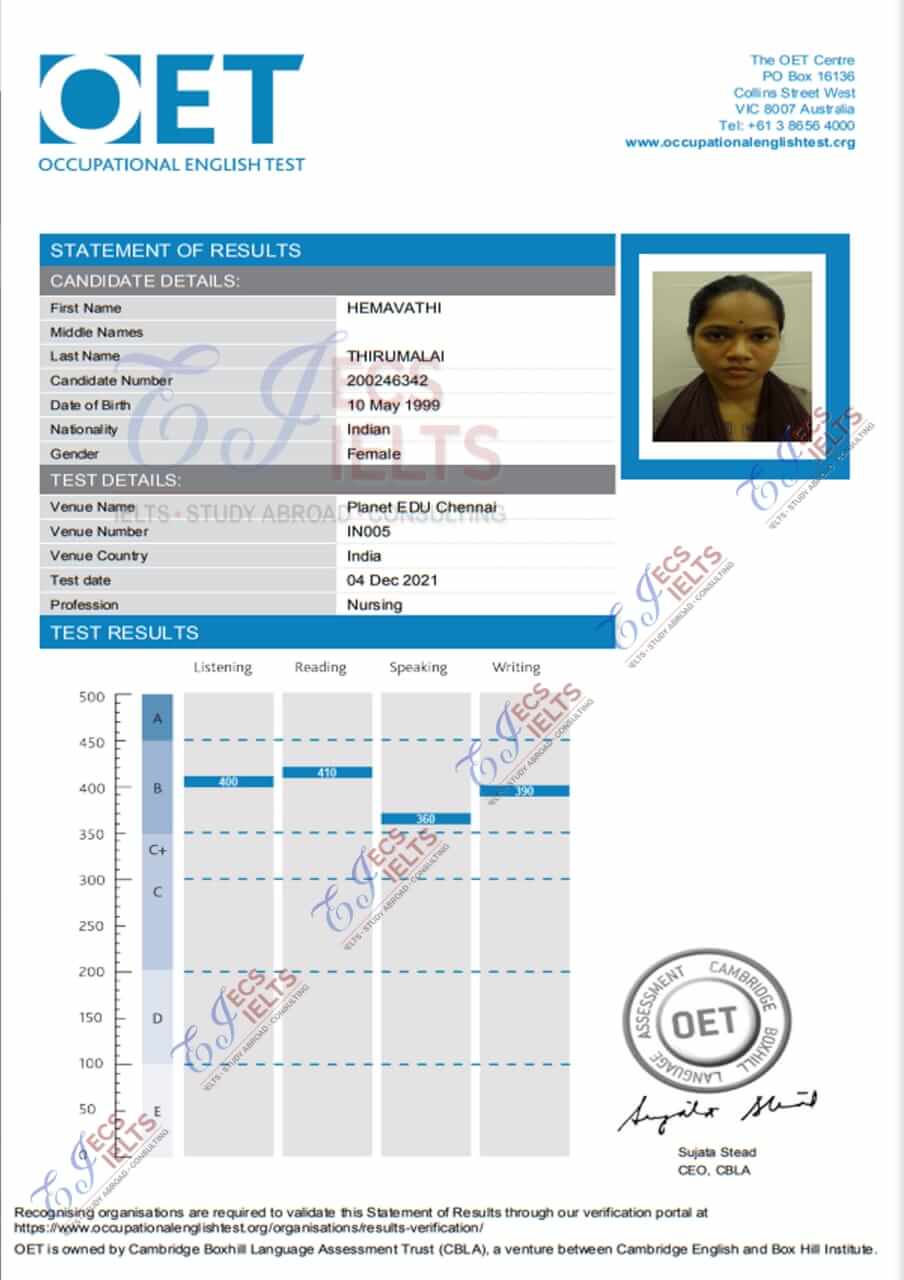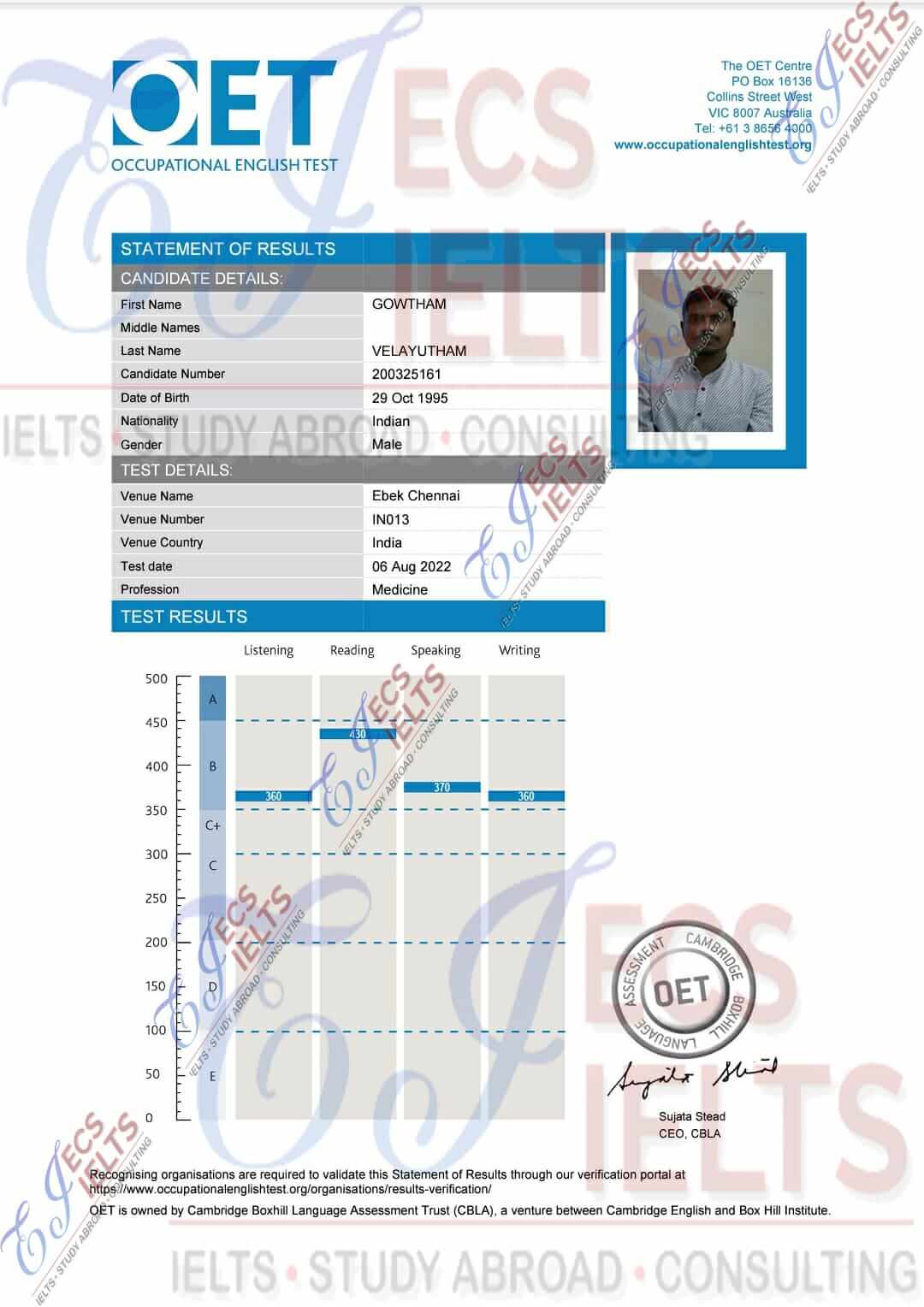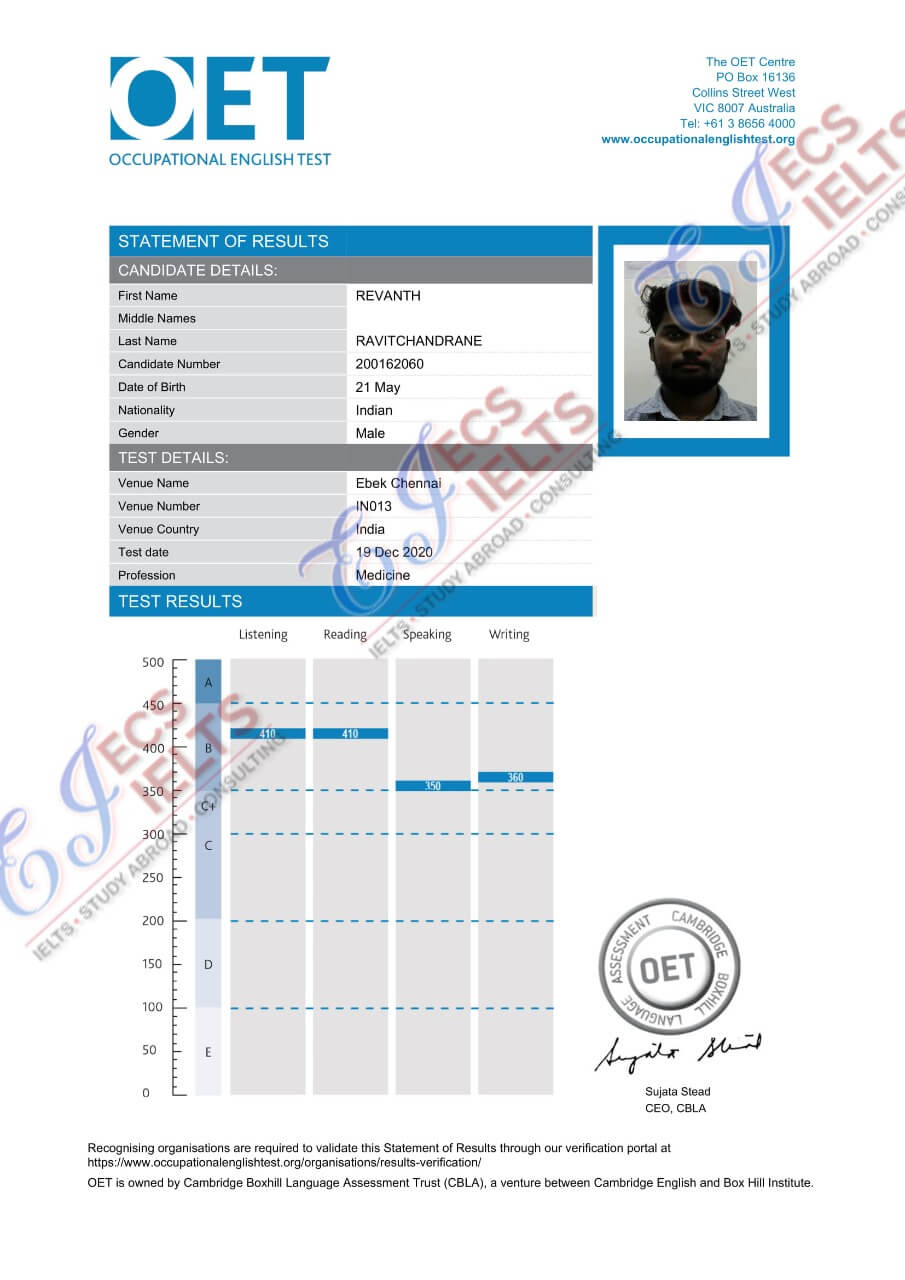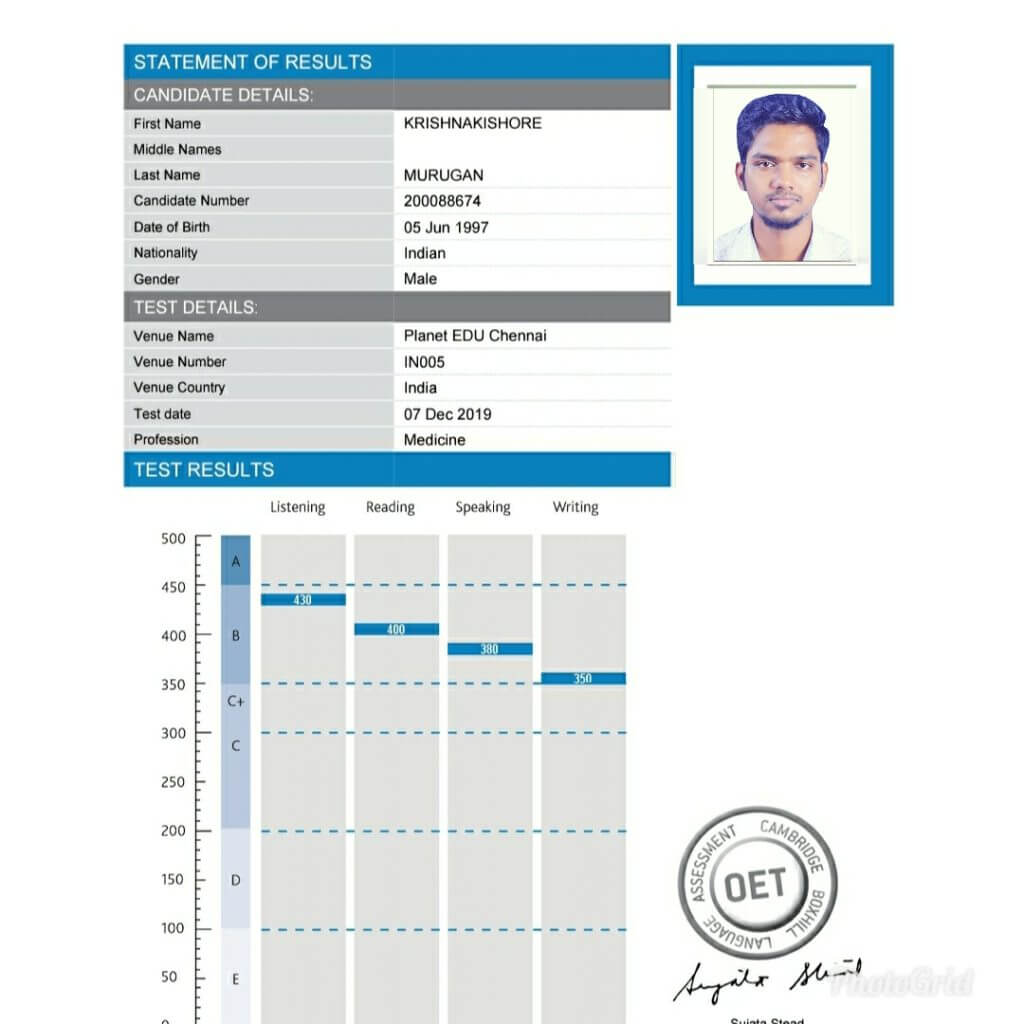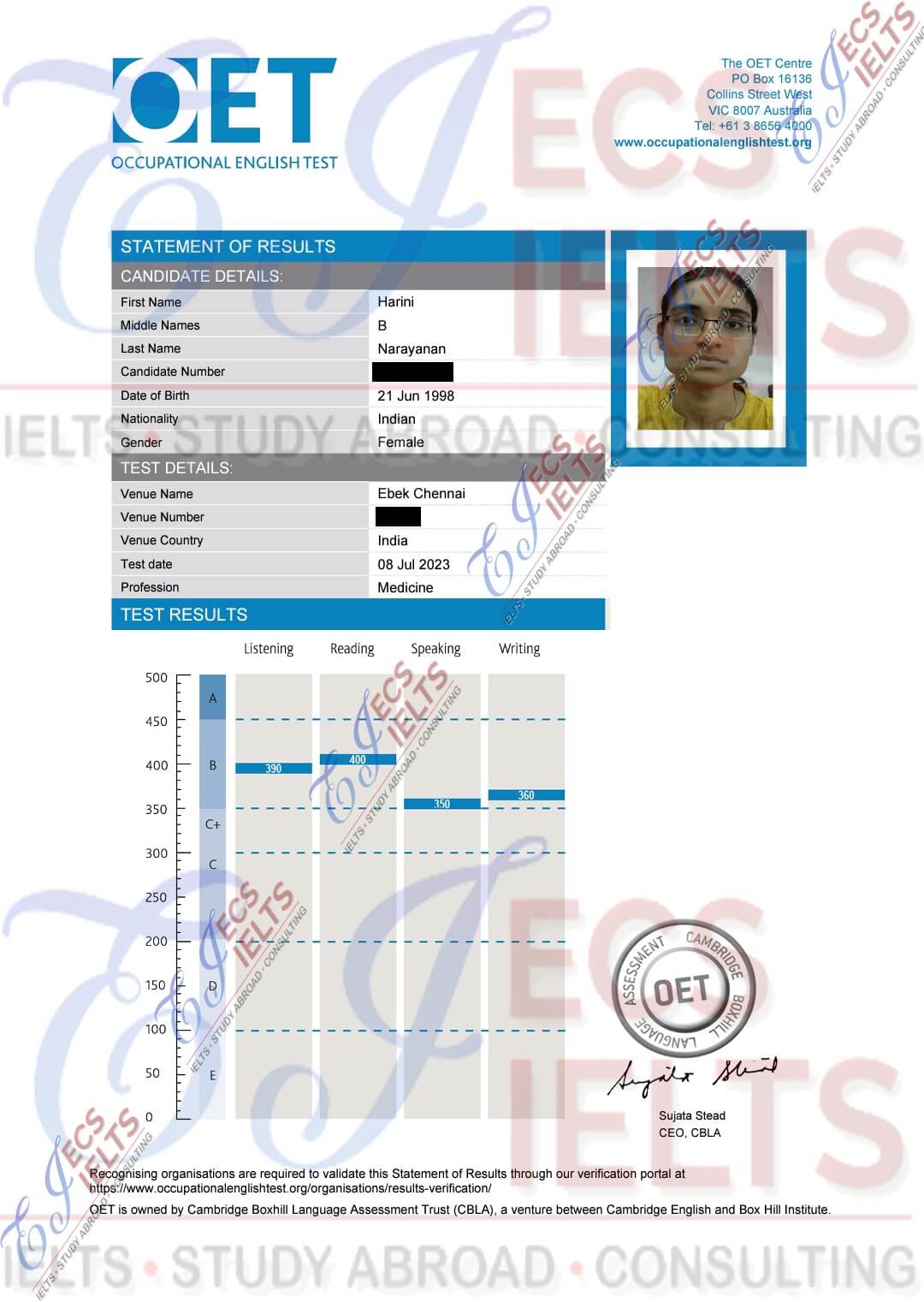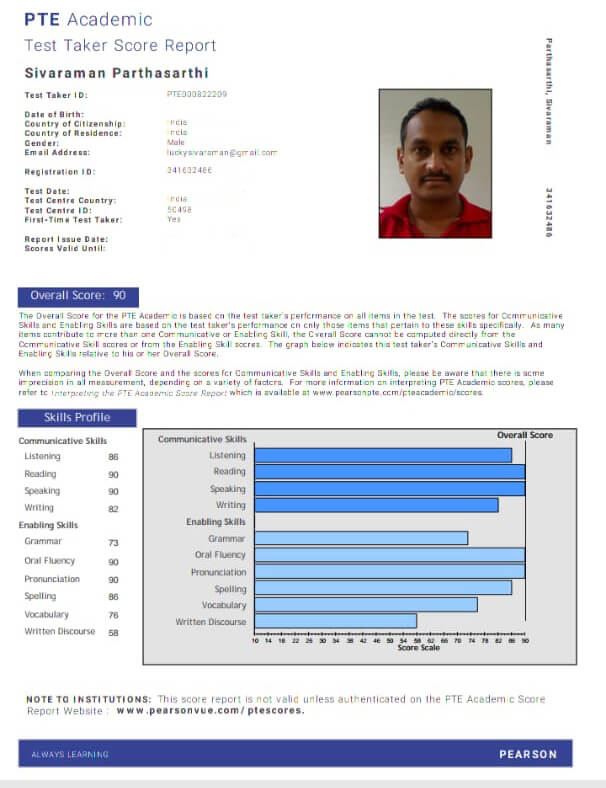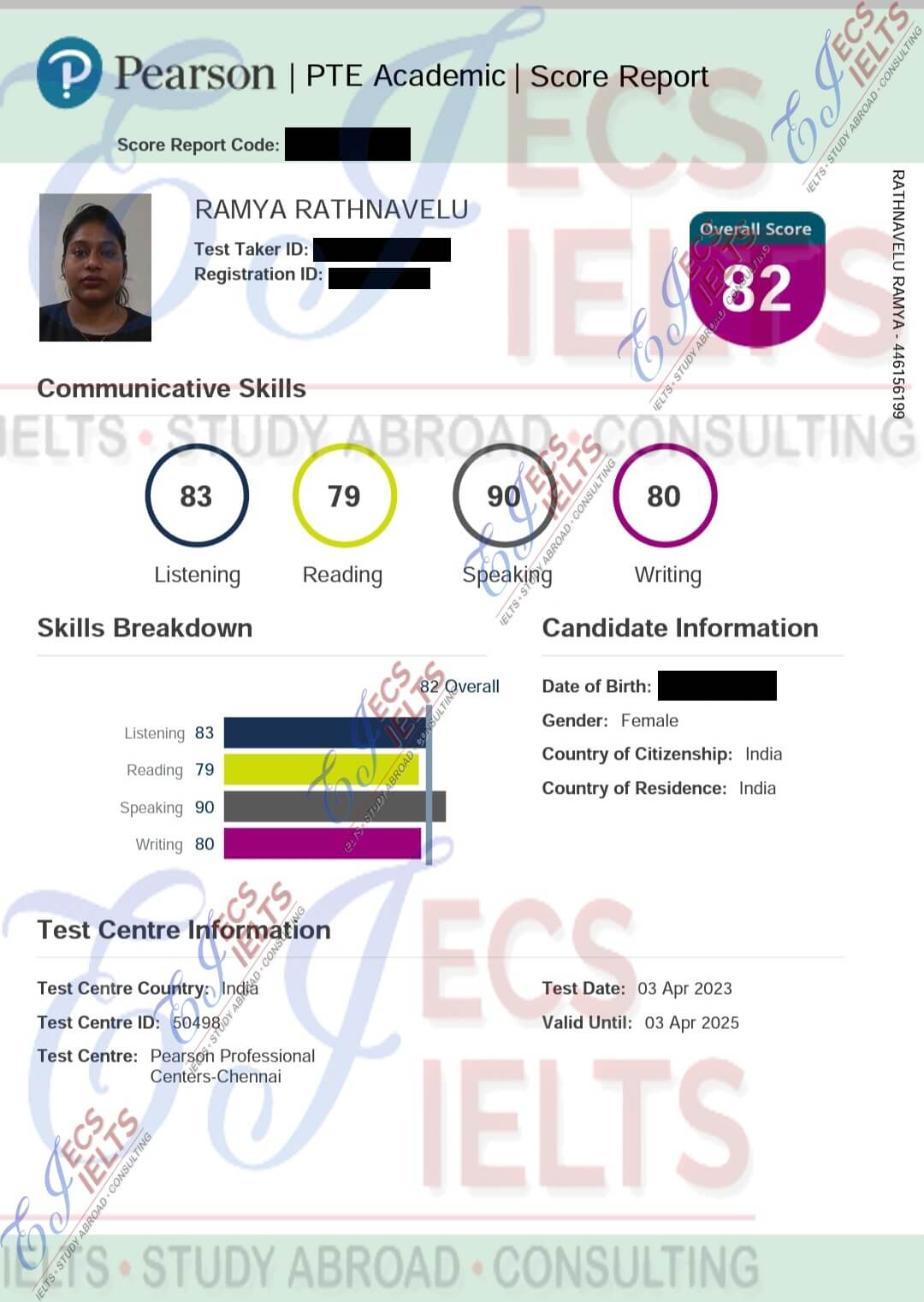 Reading – 60 mins test
Listening – 40 mins test
Writing – 60 mins test
Speaking -10-15 mins test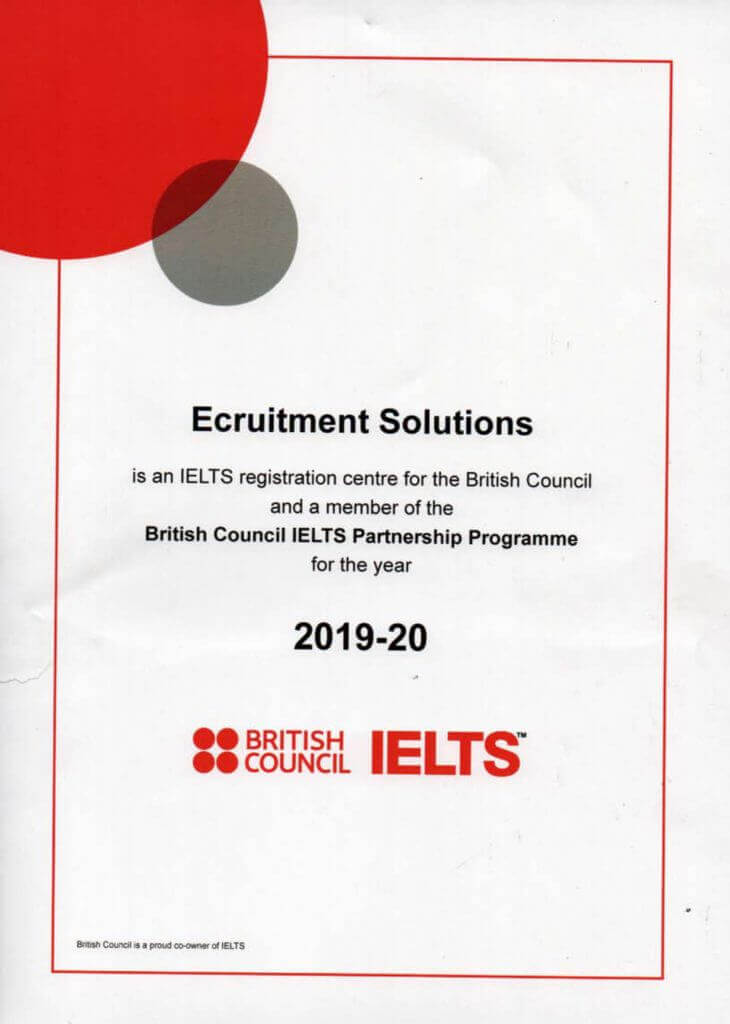 ---
| | | |
| --- | --- | --- |
| Type of Course | Duration | Hours |
| Regular | 1.5 Months | 44 hours + mock test |
| Foundation | 2/4 Months | 88 hours + mock test |
| Weekend | 2 Months | 44 hours + mock test |
| Fast Track | 10/20 Days | 20 hours + mock test |
---
---
ECS IELTS Course Director's International Qualifications:
 ECS IELTS Course Director is trained and certified  by the following prestigious organizations
University of Cambridge ( BEC TTT Certified)
 Trinity College London ( TESOL Certified)
 Oxford TEFL ( TEFL Certified)
 British Council ( IELTS TTT Certified)
 Educational Testing Service ( TOEFL TTT Certified)
Westminster College London ( Trainer and Moderator Certification to Provide TEFL and TESOL Training and Qualifications) etc..
Course Overview:
1. IELTS:
The International English Language Testing System is an International Test of English Language Proficiency for non-native English language speakers. It is jointly managed by the British Council, IDP: IELTS Australia and Cambridge English Language Assessment and was established in 1989.  IELTS is one of the major English-language tests in the world.
2. TOEFL
Test of English as a Foreign Language System is an International Test of English Language Proficiency for non-native English language speakers. TOEFL is a trademark of the Educational Testing Service (ETS). TOEFL is one of the two major English-language tests in the world.
3. PTE
Pearson test of English is conducted by Pearson PLC is a British multinational publishing and education company headquartered in London.
4. BEC
Cambridge English Qualifications: Business Preliminary, Vantage & Higher are also known as the Business English Certificate (BEC). This qualification shows employers that you can communicate in English in practical everyday business situations.
5. TESOL / TEFL
Teaching English to The speakers of other language and Teaching English as a foreign language is an international Certificate and License to teach English anywhere in the world offered by Westminster College London. 
6. General English Certificate
Westminster College London General English Certificate and diploma courses are designed to help your student communicate more effectively in an international work environment. Your student set apart in crowd that brings name among employers. ECS IELTS provides three levels milestone for learners of General English language.
Primary level (1-3)/ Secondary level (4-5)/ Proficient level (6-7).
7. Cambridge YLE:
Cambridge English: Young Learners, also known as Young Learners English Tests (YLE), is a suite of English language examinations specially designed for children in primary and lower-secondary school. The tests are provided by Cambridge English Language Assessment (previously known as University of Cambridge ESOL Examinations).
Our International Accreditation,  Achievements & Certifications:
ECS IELTS has been certified as an official test registration center  for  IELTS . It has been awarded and certified by British Council & IDP Australia.
ECS IELTS has been certified as an official test registration center for TOEFL & GRE . It has been awarded and certified by Educational Testing Service (ETS).
ECS IELTS has been certified as an official exam preparation center  for Cambridge Exams. It has been awarded and certified by Cambridge ESOL.
ECS IELTS has been affiliated as a partner school of Westminster College London accredited by the International TEFL Accreditation Council ( ITEFLAC) to offer TESOL and TEFL preparation and certification. 
ECS IELTS holds the best IELTS exam result in India by scoring IELTS Band (8.5).
---
HOW DO WE TEACH ENGLISH AT THE ECS IELTS?
Playway method
We make learning fun & enjoyable because students learn better if they enjoy being in the classroom.
Group learning
We ask students to work in pairs and in groups so they develop real-life communication skills.
Taylor made material
We use course books produced by top publishers and materials created by our teachers.
We expect students to play an active part while learning.
---
Study Abroad Consultant in Chennai
ECS Overseas education is leading study aboard firm in India structured with professional process and follow Unique systems  for sending students to foreign universities to pursue their International Education. 
We follow  ethical and transparent relationship between students and Universities.
We have recruited more than 50k+ students for Top & Prestigious Universities across the globe.
We recruit eligible Indian Students for the topmost Institutions in UK, USA, Canada, Europe, Australia, Spain, Switzerland, West Indies, France  Ireland etc.,
We guide students to follow their dreams and realize their potential by offering 1L+ programs as options from leading universities and countries that they can choose from 1500+ university and from 24 countries
Why ECS Overseas education?
We are a leading Overseas Educational Firm with 15+ years of International Recruitment Experience and tied up with 1500+ Universities and offering 1L+ world class programs to aspirants for successful overseas career . 
 We provide complete guidance to our  students according to their profile to choose their ideal university.
 Our Overseas Education Experts are committed towards ethical and professional code of practice for delivering 100% results.
We are the best overseas education & study abroad consultant in Pondicherry and Chennai.


1.Expert Guidance & Counseling:
ECS Overseas education has got 15+ years of rich experience in field of overseas education and Career Counseling.  
We have developed a high degree of professionalism in providing guidance to students seeking admission in foreign universities.
We have well experienced Counselors from Overseas Educational Industry to provide quality information in order to help the students at every step in choosing the appropriate Course, the College, University and the Country.
2.Topmost Universities
We are a well established Overseas educational consultant in Pondicherry and send eligible students to the best universities across the world. 
3.Study Programs
We offer a wide range of Study Programs from topmost Universities across the globe in different verticals.
Medicine,Engineering & Technology. Management, Nursing,Commerce, Hospitality, Management, Logistics, Tourism, etc.
4.Trusted Certifications:
We have established our association with prestigious Universities , International Education Promoters & Providers  across the world. 
5.Test preparation:
We provide training for IELTS , PTE and TOEFL. Our Trainers are Cert TESOL certified from Trinity College Of London and Master Class IELTS Certification from British Council & IDP Australia.
Our IELTS, PTE & TOEFL preparations are supported by unique and authentic study materials and mock tests. 
6.Exam Registrations:
We are an official IELTS Test registration centre of British Council & IDP Australia.
We are an authorised Consultant for TOEFL iBT exam registration
7.Application & Visa Process:
Admission to the University is possible only if the application is submitted on time  .
Visa process involves a lot of paperwork and knowledge about the Immigration policies of the respective country.
Our counsellors are experts in handling application & visa requirement and advice students to prepare the necessary documents for submitting the application on time.
ECS IELTS Study Abroad is the best choice for  your Overseas Education Career. 
We are the best overseas education & study abroad consultant in Pondicherry, Chennai & Coimbatore.
---
I am from velachery ,I had an excellent experience with ECS IELTS. They have helped me through the most toughest phase of my life. They handled all my queries very politely. Mr. Manoj has helped a lot in choosing the best universities and also got me quick responses from the universities in UK. 
And i scored Band 8 overall in IELTS, Thanks to the ECS IELTS team and my trainers Nithya & Kalai
ECS IELTS is a one stop solution for your IELTS training and overseas education. Being an applicant of 2018-19 admissions for my post graduation, I had an interesting journey throughout. Thanks to Mr. Haresh for guiding me through and staying persistent for my applications.
ECS IELTS Coaching Centre in Velachery Chennai is one of the eminent IELTS Institutes in Chennai.The teaching pattern here will help every IELTS aspirants to acheive their desired scores without much hassle.Especially,the pattern based writing approach is par excellence and hence, I would vouch this institute for every IELTS candidates who desire to score 7.5 plus band.My Academic IELTS overall score -7.5 (S-7,W-7,L-8.5,R-8).  
One stop for IELTS and that's ECS IELTS. I wasn't sure about this institute at first but still I gave it a shot. I took my two weeks crash course (Many people told me crash course ain't gonna work blah blah..) being there for more than two days I knew this is the place !! I got an overall Band 7.5 (L7,R6.5,S7.5,W7.5) I wasn't able to complete my reading task with in 60 minutes ending up answering only 30 questions.. Hats off to ECS IELTS and my trainers for coming up with such simple methods and techniques.   
British Council IELTS Test Dates
International English Language Testing System